The Nigerian military, in conjunction with special forces from the UK, U.S., Spain and Netherland have begun a training to enhance its capacity to combat terrorism in the county's maritime environment.
Rear Adm. Babalola Ogunjimi, the Nigerian Navy's Chief of Training and Operations, who stated this at a news conference on Sunday in Abuja, said that the exercise would involve 150 personnel drawn from units of the Nigerian armed forces, Army, Navy and Air Force while 739 are from the foreign Special Forces.
Ogunjimi said that the training called "African Winds'', began on October 3, and was expected to last for 14 days and would be followed by a four day exercise.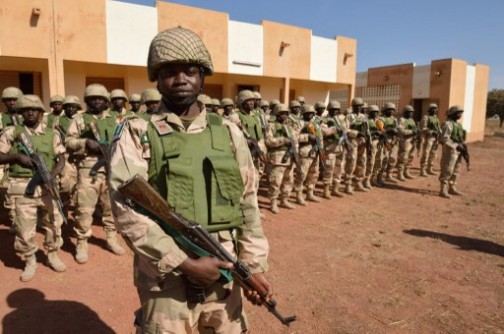 He said that the exercise would be conducted by Mobile Training Teams (MTTs) of the Special Forces in Lagos and Calabar, respectively.
"It is expected that the African Winds training and exercise will further improve the capacity of the Nigerian armed forces to deal with numerous security challenges in the Gulf of the Guinea.''
He said that some of the challenges include crude oil theft and attacks on merchant ships.
Ogunjimi explained that the programme was in furtherance of the Chief of Defence Staff's drive to promote effective joint services operations among Nigeria's armed forces and friendly military from other countries.
According to him, the exercise in Lagos will take place between Oct. 15 and Oct. 18 at Ibeshe Beach and the Navy ordinance Depot (NOD) Waterfront.
"The exercise that will be conducted in Lagos include Amphibious Raid, Maritime Counter Terrorism, Vessel Boarding Stop and Search in an opposed environment and Hydrographic survey,'' he said.
He said that the Calabar exercise would hold between Oct. 21 and Oct. 24 at the Tinapa and Muddy Beach in the state and Oron Beach in Akwa Ibom.
Ogunjimi said "other exercises to be conducted in Calabar include Riverine and Jungle operations which would be carried by a combined force from U.S., UK and the Netherland marines.
He said that an amphibious raid exercise planned and executed by troops from the Army, Navy Special Boat Service and the NNS Jubilee would be conducted at Oron Beach to end the exercise.
"Under the programme, the Netherland Maritime Forces is providing an ambphbious logistic support ship, the HMNLS ROTHERDAM to support the training and exercise,'' he said.
The chief of operations said that the ship contains 688 troops, four helicopters and six special boats called Landing Craft Utility (LCU) and Landing Craft Vehicle Personnel (LCVP).
He said that other facilities in the ship include Fast Raid Interception Special Forces Craft used in inserting small number of specially trained troops from sea to land, particularly in the creeks.
African winds is the nickname for a maritime capacity building training programmes for the armed forces of Nigeria in conjunction with the Netherland Maritime Forces under the U.S. sponsored African Partnership Station.
Other countries covered by the programme are Morocco, Senegal, Ghana, Benin and Cameroon.

Load more