Chairman, Senate Committee on Drug, Narcotics and Financial Crimes, Senator Victor Lar, has disclosed that the National Assembly will amend the EFCC Act, along with those of other anti-graft agencies to put them on first-line charge funding.
Sen. Lar gave this indication on Monday at the opening ceremony of a one-week international conference organized by the International Police (INTERPOL) in conjunction with the EFCC.
The conference, the INTERPOL Global Programme on Anti- Corruption, Financial Crimes and Asset Recovery," is holding at the EFCC Academy, Karu, Abuja.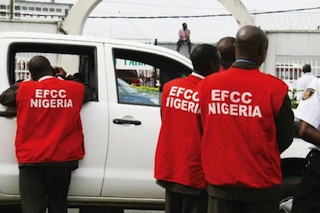 According to Senator Lar, the consideration of the Bill is in view of the pivotal role EFCC has played in bringing sanity in the handling of the nation's commonwealth in the last ten years.
"We at the National Assembly are tinkering with a Bill seeking to make EFCC and indeed all anti- corruption agencies to draw from a first-line charge of the federal government budgetary allocation. We are also working on the Bill to set up an Asset Management Agency so that all confiscated assets will be properly managed and not allowed to waste," he said.
He added that in view of the funding challenges the EFCC has been facing, his Committee is also putting mechanism in place to ensure that a percentage of the Commission's recoveries is ploughed back into the running of its operations.
Earlier in his opening remark, the Executive Chairman of EFCC, Ibrahim Lamorde said it was an honour for his organization to be hosting such an august occasion noting that the commitment to the conference cuts across all parts of the international policing world.
He noted that the various dimensions of corruption and financial crimes affects each of the countries represented and that they all need to work together to effectively confront the menace of corruption.
"The enduring, semi-formal relationships that we build in programmes such as this are crucial in by-passing those frustrating bureaucratic red-tapes, which sometimes have a way of springing up at crucial turns on the other end of an investigating chain."
Lamorde urged the participants to bear in mind that their people back home are looking up to them to bring to bear all that they have learnt.
According to him "Nothing will resonate with our hapless, long-suffering peoples better than when, from all directions as in our society of old, there is a massive communal clean-up effort by one and all, from North Africa to Southern Africa and from East to West Africa."
In his address, an Assistant Director of INTERPOL, Mr. Jaganathan Saravanasa stated that the choice of EFCC to host the programme was not a mistake, as, "EFCC is one of the very few Anti-Corruption agencies that have successfully recovered and brought back proceeds of corruption held in other international jurisdictions. It is the professionalism and commitment of EFCC that prompted INTERPOL to host this important international workshop for African countries, in this excellent venue of EFCC academy."
The National security Adviser, NSA, Mohammed Sambo Dasuki, declaring the conference open, also emphasized the need for collaborative efforts in tackling corruption.
"Corruption is one of such multifaceted crimes that affect all of our lives, and we should not only abhor it, but we must also take action aimed at curbing it.
The Attorney General of the Federation and Minister of Justice, Mohammed Bello Adoke, called on the international donor agencies to continue lending a helping hand saying that capacity building and skills are needed for the job.
The Inspector General of police, M.D Abubakar, in his speech, stressed that the continent was under the throes of terrorism, which is funded through other nefarious activities such as armed robbery, kidnapping and systemic corruption.
The conference ends on Friday, 11 October, 2013.

Load more