A Nigerian court on Tuesday dismissed charges against the 19 remaining Russians who had been accused in an illegal arms possession case, a defence lawyer said.
In October 2012, a Nigerian naval patrol off the coast of Lagos seized the MV Myre Seadiver, owned by the Moscow-based Moran group, a private security firm.
Initially, 15 Russian seamen on board were arrested for illegally bringing arms into Nigerian territory. They were all granted bail in February and the charges against eight were dropped in June.
In July, Nigeria amended the charge sheet, adding 12 new suspects, all of whom had since returned to Russia, the group's lawyer Chike Okafor told AFP.
Judge James Tsoho at the Federal High Court in Lagos on Tuesday "discharged all the accused Russians," Okafor said, specifying that 19 Russian nationals had still been facing charges.
The judge "gave no reason for this action," Okafor told AFP.
In December, Russia's foreign ministry said it had reached a deal to secure the release of the seamen, explaining that Nigeria had agreed to drop the case to preserve cordial relations between the two nations.
This deal appeared to have been sidelined earlier this year, but the court's decision to drop the case before a trial even began and with no explanation suggests that Russia's diplomatic efforts may have been successful.
The 15 suspects arrested in October were granted bail following a written commitment by the Russian ambassador in Nigeria to produce them on demand.
A Nigerian citizen who is accused of working with the Russian vessel is still set to stand trial, Okafor said, declining to provide details because he is not representing the individual in question.
Prosecutors in Lagos were not immediately available to comment on the developments in the case.
Weapons found on the Seadiver included 14 AK-47 rifles with 3,643 rounds of ammunition as well as 22 Benelli MR1 rifles with 4,955 rounds of ammunition.
The defence had argued that the suspects were innocent and the ship was contracted to provide security to vessels in the Gulf of Guinea off Nigeria, which has become an emerging piracy hub.
Ships carrying fuel from the oil-rich Niger Delta region have frequently been raided in recent years.
Nigeria does not allow companies to have armed private guards on their ships, but the failures of the navy to curb maritime attacks have prompted some to call for a review of this policy.
The European Union and United States Africa Command have both launched training initiatives to help west African navies combat unrest in the Gulf of Guinea.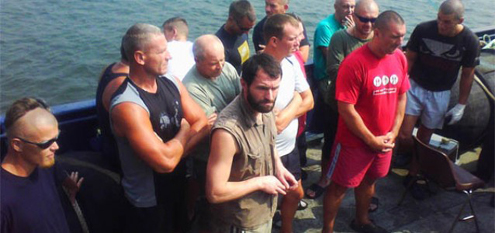 The boat was operated by Nigerian shipping company Blue Sea Maritime.

Load more