Newspaper vendors in the eastern Nigerian city of Umuahia, in Abia State, have attributed the low sales being experienced to the public's dependence on social media and newspaper reviews by broadcast stations in the country.
Some of the vendors, who spoke with the News Agency of Nigeria (NAN), also noted that another factor for the dwindling number of newspaper readers was unemployment especially among the youths.
One of the vendors, Mr Daniel Maduagwu, recalled the good days when, he said, sale of newspaper was a lucrative business.
"It used to be a lucrative business but since the advent of social media it has dwindled in terms of what we sell on daily basis because some people now prefer to read the news online.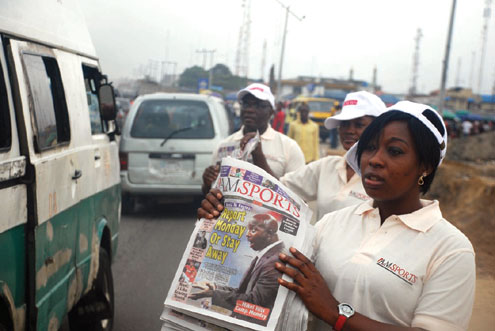 "Some radio stations review these papers very early in the morning. After listening to the review, some people may lose interest in buying newspapers to read," he said.
He said that the economic status of prospective customers had an effect on their trade.
"Economic hardship in Nigeria is another thing that is impacting negatively on our business because I believe we first of all need to eat, take care of some other things, before we can talk about reading newspapers.
"Another problem we have is the issue of free readers; every morning, they cluster around our tables and sometimes you have to push them away before they agree to leave your newsstand. Some may not even be interested in reading.
"They like to just gather around and listen to other people's discussions about national events," Maduagwu stated.
Another vendor, Mr Agwu Okpara, said that it was disturbing that most vendors were now finding it difficult to address the needs of their families owing to the dwindling fortunes of the business of selling newspapers.
"To be frank, since the introduction of social media the business has dropped. People now go to the internet to read any paper they want to read. They don't come here and patronise us as they used to
"So we are finding it very difficult. Before now, on days like this, people will be here waiting for Guardian to arrive. I used to get N2,000, N3,000 deposits from people for The Guardian newspaper alone.
"But it is no longer so because of the internet. So this thing has automatically killed the business. We are no longer living up to expectations," he lamented.
Okpara appealed to the government at all levels to do more in the area of job creation, and to also come up with a legislation that would reduce the news content in the social media.

Load more