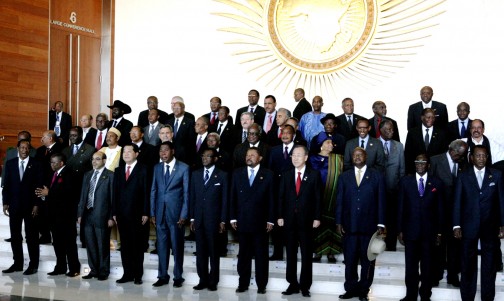 African nations on Saturday urged the International Criminal Court to defer the crimes against humanity trials of Kenya's leadership as they convened a special summit on their worsening relations with the tribunal.
The meeting at the African Union headquarters comes amid mounting tensions with the ICC, which has been accused of acting like a neo-colonialist institution that has singled out Africans since being set up as the world's first permanent court to try genocide and war crimes.
In his opening speech, Ethiopian Prime Minister and AU chairperson Hailemariam Desalegn alleged that the Hague-based tribunal "has continued to operate in complete disregard" of African governments.
"I wish to note that 34 member states of our union joined the ICC perhaps fully convinced that the organisation would promote the cause of justice with a sense of impartiality and fairness. The practice so far however leaves so much to be desired," he said.
"The unfair treatment that we have been subjected to is completely unacceptable," he added, accusing the court of ignoring efforts in Kenya and Sudan — whose leaders have been indicted by the ICC — to resolve their problems internally.
"The UN Security Council and the ICC should work with us to enable the elected leadership of Kenya to fulfil their constitutional obligations by urgently considering deferment of the ICC proceedings," AU executive council head Nkosazana Dlamini Zuma also told the gathering.
Kenyan President Uhuru Kenyatta and his deputy William Ruto have been charged with crimes against humanity for allegedly masterminding a vicious campaign of ethnic violence that left at least 1,100 dead and more than 600,000 homeless after disputed 2007 elections.
Now allies and elected this year on a platform of national reconciliation, they argue the case is violating Kenyan sovereignty, undoing efforts at national reconciliation and hampering their running of the country.
Sudanese President Omar al-Bashir, who along with Kenyatta was among the heads of state attending the summit, is wanted by the court in The Hague on 10 counts of war crimes, crimes against humanity and genocide in Sudan's Darfur conflict.
The ICC so far has issued indictments linked to conflicts in nine countries, all of them in Africa. Diplomats with the 54-member AU say there was a sentiment the court — which is an independent body and not part of the United Nations system — was turning a blind eye to other parts of the world.
African countries account for 34 of the 122 parties to have ratified the ICC's founding treaty, which took effect on July 1, 2002. A mass pull-out from the court — as some countries have demanded — could seriously damage the institution.
'License to kill'
The AU bloc, however, has been divided on the issue — with countries like Kenya, Sudan, Ethiopia and Rwanda taking a tough line, but other nations seemingly reluctant to get embroiled in a diplomatic confrontation.
Zuma, a former anti-apartheid activist, acknowledged in her opening speech that African nations should "do more to strengthen the capacity of our national and continental judicial systems" — seen as a concession to several prominent African figures who have defended the court.
South African anti-apartheid icon and Nobel peace laureate Desmond Tutu issued a stinging attack on the summit, saying that "those leaders seeking to skirt the court are effectively looking for a licence to kill, maim and oppress their own people."
Former UN secretary-general Kofi Annan, from Ghana, also said a pull-out would leave Africa wearing a "badge of shame".
Kenya's leadership has so far pledged to cooperate with the court, with Ruto's trial underway and Kenyatta due in court on November 12.
But the relationship has been soured by accusations of witness intimidation in Kenya and counter-complaints against the ICC that it has been manipulating witnesses and is inflexible.
Following last month's Islamist militant attack on Nairobi's Westgate shopping mall, Nairobi also demanded that Kenyatta be allowed to appear by video-link so he can deal with national security issues, and this week his lawyers alleged abuse of process and called for a halt in proceedings.
Should the accused fail to turn up for any of the hearings that could trigger arrest warrants, with Kenya then running the risk of diplomatic isolation.
Sudan's Bashir has refused to go to The Hague and is the subject of ICC arrest warrants. He has travelled to several African countries however since then.

Load more