Super Eagles' head coach Stephen Keshi has pleaded with the Ethiopian Football Federation (EFF) to water the Addis Ababa National Stadium pitch ahead of Sunday's match against the Walya Antelopes.
Keshi made the plea on Saturday in Addis Ababa while reacting to the football pitch's dry playing surface and patchy grass.
He said if the pitch was not watered, it could injure Super Eagles players and deny football fans the opportunity of watching good football.
"We are pleading for the pitch to be watered so as to save our players from injuries and for the fans to watch good football,'' Keshi said.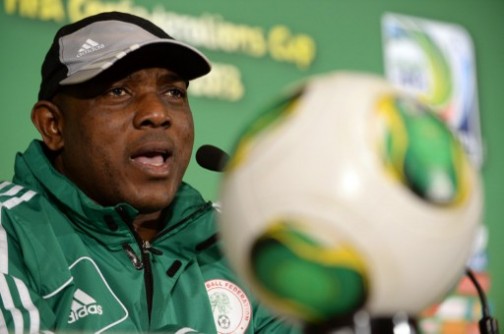 Reacting, Yigzaw Bizuayehu, the Secretary-General of EFF, however told the News Agency of Nigeria (NAN) in an interview that the pitch was ready for Sunday's encounter.
He said the Nigerian team was not the only one to play on the pitch on Sunday.
The official said the EFF had both the visitors and their players in mind and would not do something to endanger the players, adding that the pitch was watered regularly.
"We did what we can. We have done our best as far as football is concerned,'' he said.
Bizuayehu told NAN further that Sunday's game should not be seen as a do-or-die affair, saying that football was about wins, losses or draws.
"I am a sportsman and an international referee. So, I know that football has three things, which is either you draw, lose or win.
"So, why should I be scared of another team or be bothered if I lose? This is football, and we should not forget that everybody has his or her own talents and people are bound to play.
"Don't also forget that players are playing for their flags. So, no one is scared of anybody.
"We will accept whatever the outcome of the match will be, but players must do their own job,'' he said.
The Nigerian side are in Addis Ababa for the first leg tie of the 2014 FIFA World Cup Final Elimination Round Fixture.
They face hosts Ethiopia on Sunday at 4 p.m. (2 p.m. Nigerian time).
The return leg game will hold at the U.J. Esuene Stadium in Calabar on 16 November.

Load more