Simon Ateba/Aviation correspondent
An IRS Airline plane, on Sunday, had to disembark 89 passengers right on the runway in the northern Nigeria city of Kaduna, after a landing itch, the airline said in a statement.
IRS managing director, Yemi Dada, said the pilots of flight 3390 with 89 passengers onboard received a low hydraulic warning minutes before landing.
An hydraulic warning means there is a problem with landing gear, nosewheel steering, brakes, cargo doors, thrust reversers or both primary and secondary flight controls.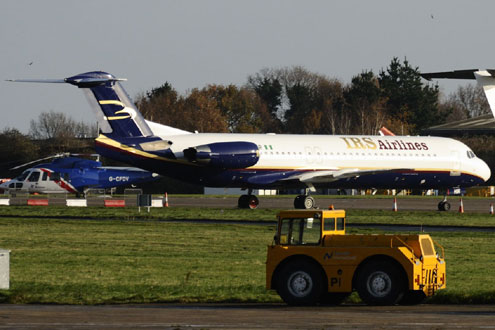 "On final approach to Kaduna today on our flight 3390 with 89 passengers, our cockpit crew got a low hydraulic in system 1 warning and decided to take precautionary measures to ask for ground confirmation that all gears were down and locked," he said.
Dada said the aircraft landed normally after the control tower had confirmed that the gears were all down normally.
"The crew proceeded to land but followed procedure to disembark on the runway and not taxi in accordance with the procedure," Dada said.
All passengers disembarked normally and the aircraft was towed to ramp.
"The maintenance crew are inspecting to confirm the issue that caused the warning to the crew," he said.

Load more