A line in the National anthem says 'The labour of our heroes past shall never be in vain' but whether this promise is strictly adhered to has become an illusion to the majority of Nigerians. But that is one promise that has been called to question in the lives of many who have spent their active years serving the nation. This particularly true of sports men and women abandoned by the nation at the most critical times of their lives.
The families of some sports legends would testify to this fact. Even the living ones like Joe Mensah, Sebastian Brodericks, Paul Hamilton, Davidson Andeh, Tunde Disu, Sunday Onyerekwa, Peter Konyegwachie, Peter Aneke, Joe Lasisi, and the first Olympic medalist for Nigeria, Nojeem Mayegun, who now resides in Austria, cannot boast of enjoying the best of rewards for the services they rendered to their fatherland.
One of the latest victims of this official neglect is Ayodele Peters, a retired boxer who went as far as representing Nigeria at the Olympics games in 1980. But all he has to show for that today is grinding poverty on account of which he lost his wife and children and now lives in an uncompleted building in a remote part of Lagos.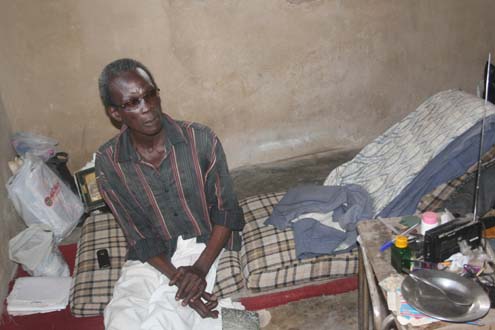 Peters lives in a three bedroom bungalow devoid of any identification number because of its remote nature. It has no doors or windows and looks abandoned in every sense. Tattered cloths serves as window blinds in the apartment he also shares with some domestic animals.
Like most Nigeria's sport legends, his journey from grace to grass started when according to him he fell out with the officials of the Ogun State Sports Council in 1989. Having started his boxing career as a student of the Lagos State Technical College, where he graduated with a certificate in Building Technology in 1976, Peters was immediately co-opted as one of the pioneer staff of the Ogun State Sports Council after its creation same year. Recounting his ordeal, 'Anikulapo' as he is fondly called by his admirers narrated how he watched his wife and kids, a boy and a girl snatched away by the cold hands of death in a bizarre circumstance in 1996. According to him they had fallen ill at different times and he couldn't provide five thousand naira for their medications.
"My brother I am really sorry taking you through this stress, I am ashamed we could not board an okada (Commercial motor-cycle), that is because I don't have the hundred naira to spear. Please forgive me. This is what I have had to face for so many years now. At times i walk longer distance," he had said repeatedly.
Peters represented Nigeria at the 1980 Olympic Games in Moscow. Before his Olympic appearance, he was one of the most decorated boxers in the country.
"I was employed into the Ogun State Sports Council the same year it was created. So we were the pioneer employees of the state and I was placed on grade level 03. By 1978, I had won four fights for Ogun State and after our recruitment, a former Lght- heavy weight champion then Archi More was in Nigeria on contract with the National Sport Commission and seconded to the Nigeria Amateur Boxing Association, it was through him I discovered the secrets of boxing and after taking us through a course I was awarded a grade 3 coaching certificate."
Expressing regrets at sticking with Nigeria when he had options of taking up the citizenship of top European countries like France and Great Britain, the Lagos born former athlete has had to leave from hand to mouth in his country of birth. Claiming to have lost everything he worked for in life, Peters' only consolation is the fact that he is hale and healthy, and that his aged mother, who according to him is approaching her 90s and resides at the Magodo area of Lagos, is still alive.
Another painful tale that he does not want to recollect s he puts it is " In 1996 I lost my wife and two children to death for lack of money to purchase prescribed medicine I am a sad man. I am a loner." .
Peters continued: "I hope I will not die in this situation because it will not be a good story for the land and even those living on it. If so many of us have died mysteriously, then why do we need to serve the country? People keep billions in their accounts, what do they do with it? Our mind sets must change, what would have been enough for children yet unborn, one individual will just put it in his account. I am just praying that God will not allow me die this way. Since 1994 that the Sports Council threw me to the streets because of money and title, yes I mean the Ogun State Sport Council. From 1976 to 1994 they pushed me out on compulsory retirement, by 1996 they asked me to write an application for voluntary retirement. I made grade level 07 since 1986, so how can the sports council place me on compulsory retirement without the Ministry of Sports? The Sports Council is a parastatal under the Ministry of Sports, so they can't say they place me on compulsory retirement without the Ministry of Sports."
According to him in 1989 the Director of Sports and the Administrative Officer in the state's Sports Council were removed by the state government for financial impropriety. A Sole Administrator was appointed in person of one Mr.Runsewe. He went to him and presented his case again, but to his amazement, Runsewe expressed fears, revealing that those behind his case were too powerful to handle.
Responding to Peters' claims, the Director of Sports, Ogun State, Adesola Faleti, who is also an Olympian and a contemporary of the complainant, said records at the sports council states that Peters retired voluntarily from active service in 1996.