Okafor Ofiebor/Port Harcourt & Jethro Ibileke
The Movement for the Emancipation of the Niger Delta (MEND)has claimed responsibility for the fire that engulfed the Warri Refinery earlier today
In an online statement, spokesman Jomo Gbomo said the movement was waging a war tagged 'Hurricane Exodus' , with the intention to burn down the entire refining facility.
The statement said "As long as President Goodluck Jonathan continues to rely on an unsustainable and fraudulent Niger Delta Amnesty programme, peace and security will continue to elude his government in the region. 'Hurricane Exodus' is on course!"
The prompt intervention of fire fighters and others saved the refinery today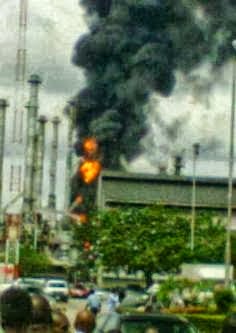 It was reliably gathered that the fire started at about 11.00 a.m. from one of the plants and was at the verge of spreading but for the timely intervention of fire fighters from Chevron Nigeria Limited (CNL), Shell Petroleum Development Company (SPDC), that of the state fire fighters as well as the standby fire fighters from the WRPC and that of PPMC, after battling for about two hours.
Despite the claims by MEND, sources at the WRPC disclosed that the fire was a result of a spark along the separating lines of petrol, diesel and DPK and that three storage tanks were partially consumed by the inferno.
The fire incident caused pandemonium among residents of Warri and environs as calls were made severally to relations to avoid the oil rich city to avoid being caught in anticipated explosion.
The refinery is located in Ekpan area in Warri South Local Government area of Delta state.