Governor Adams Oshiomhole of the southern Nigerian state of Edo has accused the Nigerian police of aiding ballot box snatching, supervising electoral fraud and intimidating voters in the just-concluded Esan North East Local Government election held in the State.
At the swearing in of the Council Chairman Mr. Sam Oboh at the Government House in Benin City,today Oshiomhole said: "I am embarrassed that the police have become electoral officials"
According to the governor "what I heard yesterday and I am still investigating; if the reports are correct, then Nigeria should be put on notice that the police may well have chosen to become the INEC or EDSIEC officials and have chosen to overthrow those who are authorised by law to conduct elections.
"As a Nigerian, I am embarrassed that the police are involved in carrying electoral materials, arresting EDSIEC returning officers and coercing them into a police station and converting it into a collation centre supervised by policemen imported from Abuja and Lagos in other to subvert the will of the people of Esan North East.
"As a civilised man, I felt ashamed that men in uniform at rather very senior level supervised this criminal act of the police in yesterday's (Tuesday) election. The Minister of Works and other federal functionaries, including Assembly men used their exalted positions, taking unfair advantage of the police assigned to protect them and deployed them for election purpose, detaining returning officers and treating them as if they were prisoners of war compelling them to sign fake results", he said.
Oshiomhole said the law establishing the electoral commission is clear, adding that nowhere was it stated the police post is an electoral office.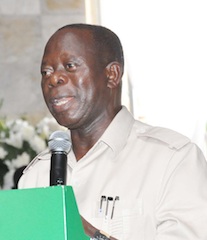 "Law enforcement officers led by a Commissioner of Police were involved in converting a police post to an electoral centre. It is an embarrassment. No one will live forever but our reputation will live after us. Edo State under my watch will not submit to intimidation", he added.
He warned "anyone who is under the illusion that they can use the instrument of coercion to intimidate us are poor students of history. We are at our best when we are challenged. I want to appeal to the Federal authorities and the security agencies to remain faithful to their oath of office".
"Yesterday, the police command in their wisdom chose to turn Esan North East to a police state, such that we had more policemen than voters. If we have such number of policemen, how come we are at the mercy of kidnappers? We have such determination to deal with decent civilians and yet weak to deal with hardened criminals? I fail to understand that" he said.
To the new Chairman, Oshiomhole said, "it has been a long political road to travel and you have shown that you are indeed a long distance runner. You have shown that our commitment to the ballot box is unshakable. Our faith in the democratic process remains strong and our commitment to one man one vote remains strong.
"You will not have the resources to share to those who have worked for you; you will not have the money to share to those who were brutalised. But I pray God will use you to use the resources available to judiciously apply the resources of your local government and manage it creatively, fairly and justly to impact on the lives of the people. That is the only way you can pay your debts to the electorate", he advised.
He noted that "having subscribed to the relevant oath of office, you have to be just to even to the opposition", adding that is the promise of democracy.
Responding, the new Council Chairman, Mr. Oboh said forces of darkness can only suppress light for a short time and assured that the Council administration would work assiduously to develop the local government area.