A South African company hopes to rival the likes of Samsung and Nokia with home-grown smartphones tailored to African needs.
Seemahale Telecoms, which already makes telecommunications equipment in South Africa, is set to build a model that looks similar to Samsung's Galaxy S4 and runs on Google's Android operating system, to sell at around 2,500 rand ($260).
"It just didn't seem right that there are hundreds of millions of phones in Africa, none of which are actually manufactured here," Seemahale founder Thabo Lehlokoe said in an interview.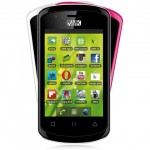 "Not because of anything other than the fact that everybody tended to think that it is cheaper to do these things in China."
If it seems implausible that an African company with no experience of building phones could compete seriously with established global manufacturers, Seemahale counters that his as yet unnamed phone will fill an unmet need.
A natural big-brand comparison might be the Sony Xperia Go, which has a similarly rated processor and retails for 2,899 rand($300).
But whereas the Go has a 3.5-inch touchscreen and advertised talk time of up to 6.5 hours, Seemahale's phone will have a 5-inch touchscreen, and Lehlokoe says its 2,250 mAh battery will offer talk time of "over a day".
Those features, says Lehlokoe, are must-haves on a continent where a relative lack of home computers or fixed-line telephones means most people interact with the Internet from their phones.
Africa already has at least 600 million mobile phones, but the billion-strong population is growing rapidly, as are incomes, and governments are promoting connectivity in the hope that it can speed up delivery of education and health services.
Seemahale has yet to receive any pre-orders – the devices are still undergoing regulatory tests – but Lehlokoe said one South African operator was already testing the phone and another was interested. The phones are designed to be rebranded by operators, with their own logos.
The components will come from Taiwan and China, but the phones will come part-assembled for the first few months, until factory workers are more familiar with the production process.
Eventually, Lehlokoe says, Seemahale has the capacity for a monthly output of 150,000 smartphones or the 10.1-inch tablets that it also intends to produce, retailing for 3,500 rand.
But even an output of 5,000 devices per month could mean 50 to 100 new jobs.
According to the telecoms advisory firm IDC research, Africa received shipments of nearly 30 million phones in the second quarter of 2013, a fifth of which were in the smartphone segment.
Other companies are also hoping consumers will embrace handsets made or designed in Africa.
Mauritius-based Mi-Fone is selling basic phones for as little as $12 in countries such as Kenya, Angola, Rwanda and Nigeria. In the Congo Republic, VMK is designing smartphones and tablets for Africa, which are assembled in China.
.Abridged from a Reuters report