Europe's leaders united Thursday behind furious Germany and France as an escalating row over claims of US snooping on its traditional allies overshadowed an EU summit.
German Chancellor Angela Merkel, whose mobile phone reportedly was the latest target of covert surveillance by the US National Security Agency (NSA), set the tone.
"Spying between friends, that's just not done," she said as she joined leaders of the 28-nation European Union for a summit initially called to discuss boosting employment and the digital economy.
"We need trust between partners and such trust needs to be re-established."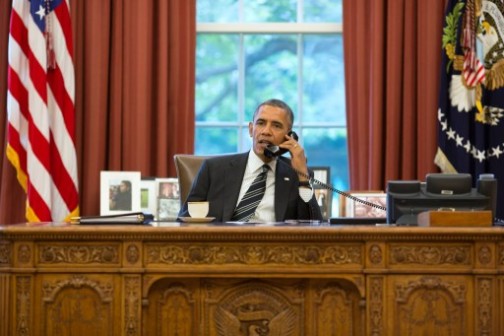 The German chancellor met with French President Francois Hollande on the sidelines of the summit, with a French diplomatic source saying they would discuss "how to coordinate their response" to the eavesdropping allegations.
The meeting came amid a fresh slew of damaging revelations on phone-tapping as The Guardian said US spies eavesdropped on the phone conversations of 35 world leaders after White House, Pentagon and State Department officials gave them the numbers.
A classified 2006 document provided by fugitive intelligence leaker Edward Snowden said the NSA worked closely with the "customer" departments of the US government to secure the phone numbers of leading foreign politicians.
Hollande and Merkel phoned President Barack Obama this week demanding clarification over claims the NSA spied on millions of French phone calls, and on the German leader personally.
But in Washington, White House spokesman Jay Carney refused to say whether Washington had listened in on Merkel in the past.
The White House has been on tricky political ground since saying when the claims first surfaced on Wednesday that it is not monitoring Merkel's communications and will not do so.
"We are not going to comment publicly on every specified alleged intelligence activity," Carney said.
"The path that leads us down is not one that we can travel."
US officials habitually refuse to discuss intelligence issues and espionage allegations as a matter of policy.