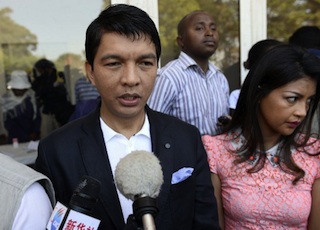 Madagascar began voting Friday in long-delayed presidential elections meant to restore democracy and pull the island nation out of the crisis it plunged into after a 2009 coup.
Around 7.8 million eligible voters were to elect a successor to an interim government after strongman Andry Rajoelina, 39, seized power four years ago, sending then-president Marc Ravalomanana into exile.
Some of the main political players — including Rajoelina and Ravalomanana — have been barred from running to prevent their long-standing political wrangling from jeopardising the vote.
"I think Madagascar will emerge from the crisis in this election," said voter Alain Yves as people trickled in, voter ID cards in hand to cast their ballots in Ampasandratsarahoby, a suburb in Antananarivo.
"Up to now the election is calm."
With 33 candidates on the ballot and no clear favourite, chances of a first-round outright winner looked slim, raising the possibility of a run-off in eight weeks' time.
Despite the number and variety of candidates — including ex-ministers, a conservationist and a rock singer — analysts say only about six are serious contenders.
Rajoelina voted in a suburb of the capital Antananarivo, saying he was "ready to transfer power according to the rules of the game."
"Our challenge is to end the transition in peace and above all to avoid that the country descends into civil war or confrontation."
He did not name a preferred successor, but former finance minister Hery Rajaonarimampianina is perceived as his favourite and was given massive media exposure compared to other candidates as campaigning wrapped up.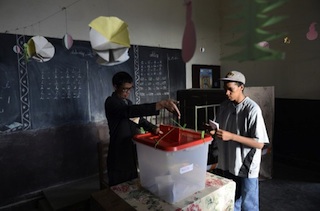 Rajoelina said he would support a candidate in an eventual second round of voting scheduled for December 20, along with legislative polls.
Since independence from France in 1960, the Indian Ocean island nation of 22.3 million people has lurched from one crisis to another.
The seizure of power by Rajoelina, who was then mayor of Antananarivo, plunged the country into a political, social and economic quagmire.