Damilare Okunola
Commuters in Lagos, western Nigeria, were stranded, Saturday morning, when workers with the Bus Rapid Transit, BRT scheme refused to work as they protested their unpaid salaries.
The commuters, who expected to board the bus after the monthly sanitation, were left to bemuse their fate when the boarding points at Ketu and Ojota bus stops were empty.
P.M. NEWS findings revealed that the ticketers and drivers refused to work as their salary for last month had not been paid-a situation which they are not used to.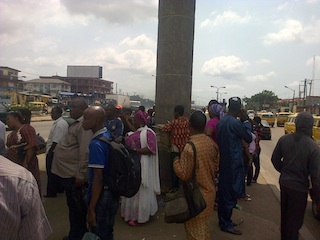 The ticketers and bus drivers met with their bosses at their Ketu office and efforts made by our correspondent to get the management to talk, proved futile as the correspondent was bundled out of the park and his recording device seized.
However, two of the drivers who later spoke on the condition of anonymity, accused a senior staff of cutting their earnings.
According to one of the drivers who claimed to be a senior staff,"since this man came on board, things have changed drastically. He has kept making promises which he has never kept for once. Our salary was always paid on the twenty-fifth of the month but now, we are yet to get our salaries.
"We used to get eight tins of milk monthly before he came but presently, we don't get any and there isn't any explanation for this.
"The leadership has not also told the truth about our salary because we earn just N45,000 as against the N75,000 that outsiders have been made to believe".
P.M. NEWS made frantic efforts to reach the boss for his side of the story but the tension in the office at the time of filing this report prevented him from talking to us.