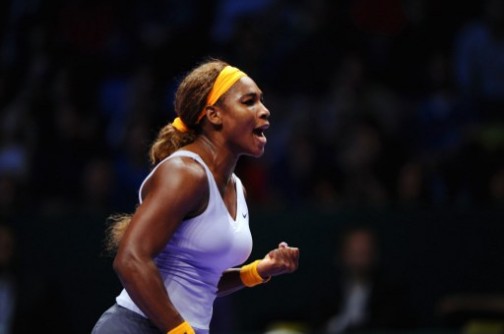 Serena Williams retained her WTA Championships title on Sunday in Istanbul, Turkey with a 2-6 6-3, 6-0 win over China's Li Na.
It was the world number one's 78th win and 11th title of 2013.
"I can't believe I won, I was so tired. Did I really win? It's really awesome — it's such a special moment," said the 32-year-old.
The 32-year-old world number one from the US had admitted to feeling physically exhausted before, during and after a fraught semi-final with Jelena Jankovic on Saturday and at 3-3 in the second set on Sunday, she looked in danger of a surprise defeat.
"But I had to keep going, I hung in there, and it's amazing to win this," said Williams.
Li, the first Chinese player to make the final of the end of season showpiece and about to become the highest-ranked Asian woman at number three in the world, made one break of serve for 2-1 in the first set with a wrong-footing backhand drive, and another for 4-1 by punishing a moderate Williams serve.
The world number one looked subdued and shackled. The emotional eruptions of her semi-final with Jankovic were nowhere to be seen or heard and her movement was leaden.
Sometimes she was forced to contain or defend, and in the first set she managed a mere five winners — a paltry total for her. Li managed twice as many. Expectations were turned on their head.
Williams held on to her serve in the seventh game but the set was effectively gone.
The second set started with a mighty battle, which resulted in Williams hanging on to her serve after almost 12 minutes of effort and eight deuces. It was a big moment.
Next game she broke Li's serve, extracting a volleying error on break point, and advanced to 3-1, and the mood of the match began to shift.
Although Li got back to 3-3 with some impressively positive driving, her serve was becoming more variable, and a double fault contributed to a lost service game which put her at 3-5.
By now Williams' survival instincts were engaged intently.
She closed out the set after another service game of several deuces, and when Li delivered her eighth double fault to lose the opening game of the final set the tide completely turned.
Li double faulted again to go 0-3 down and an encouraged Williams, with the finishing line closer, was hitting the ball better.
After the last shot she placed her forehead on the court as if in thanksgiving for redemption.
The triumph may persuade Williams that adding to her 17 Grand Slam titles during 2014 is certainly possible, and that winning another five, to overhaul Steffi Graf, might eventually come within reach too.
But her weariness might suggest another message. Eighty matches may in future be an ambition too far.

Load more