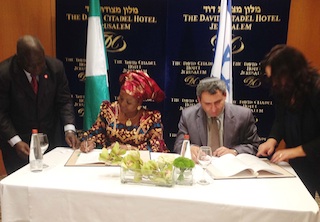 Nigeria and Israel have signed the Bilateral Air Services Agreement(BASA), in Jerusalem, but curiously without the loud presence of aviation minister, Princess Stella Oduah.
Minister of State (Foreign Affairs), Prof. Viola Onwuliri signed for Nigeria, while Israel's deputy foreign minister, Mr Zeer Elkin signed for his country.
The signing of the agreement was one of the highlights of President Goodluck Jonathan's visit to the country, on the fourth day.
Earlier, President Jonathan pledged that his administration will continue to actively combat the menace of terrorism in partnership with all peace-loving countries of the world.
Speaking at a meeting with President Shimon Peres of Israel, President Jonathan said that Nigeria will welcome enhanced cooperation and assistance from Israel for its ongoing efforts to end terrorist attacks and incursions in parts of the country.
"Combating the menace of terrorism is a challenge that we must address in partnership with all peace loving countries and peoples of the world.
"I seek the cooperation of your country to confront the security threat from terrorist groups that my country is now facing. There is no doubt that Israel has had decades of experience in combating terrorism. Nigeria can benefit tremendously from your experience in this area," President Jonathan told the Israeli President.
Acknowledging the growing economic relations between Nigeria and Israel, President Jonathan called for greater collaboration between them in other sectors, saying that his administration will also welcome the greater deployment of Israel's renowned expertise in furtherance of Nigeria's agenda for national transformation in areas such as healthcare, agriculture, electric power supply and the management of water resources.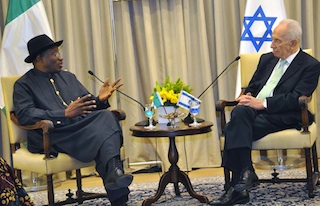 He assured President Peres that his administration will continue to encourage the expansion of trade, economic and cultural relations between Nigeria and Israel, adding that the signing of a Bilateral Air Services Agreement (BASA) between them later in the day, will undoubtedly boost such relations.
In his remarks at the meeting, President Peres said that he was delighted and privileged to have had the opportunity of hosting "the first Nigerian President to visit the state of Israel".
"You are a most distinguished pilgrim. In recent years, our relations have extended to many other spheres, and are steadily growing. The relations between Nigeria and Israel are close and long-standing. They are based upon friendship and the shared values of freedom, democracy and faith. Today, we also face common menaces.
"Nigeria and Israel have been steadfast partners in combating terror groups such as Al Qaeda, Hezbollah and Boko Haram which threaten the regional stability in Western Africa and in the Middle East.
"You have combated the menace of Boko Haram with a steady hand and great courage. The State of Israel too has been fighting terrorism since its establishment. Terrorists all over the world are united in their attempt to destroy hope and unity. Those of us who seek peace and freedom must be united in order to defend our common front.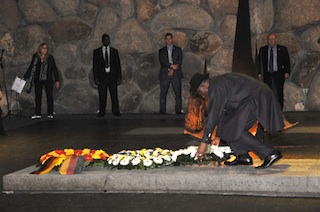 "Mr. President, you have been a brave leader of a brave country. Marching ahead towards the strengthening of democracy and development. And at the same time, trying to unite your people. The world is watching as Nigeria grows and prospers, achieving its economic and development goals. Your country, Mr. President, is not only a great hope. It is an example and an inspiration for countries around it. A true testament to the strength of the human potential.
"Israel and Nigeria share the belief that the progress we make in our own countries and societies can benefit our neighbors and regions at large. I know that one of highlights of your trip was the signing of the Bilateral Air Services Agreement between Israel and Nigeria. You are a leader who opens the skies for the horizons of tomorrow. Hand in hand, let us soar along the runway of progress and freedom towards a brighter future," President Peres told President Jonathan.
President Jonathan met earlier in the day with Israel's Minister of Defence, Mr. Moshe Ya'alon. He also visited the Holocaust Memorial in Jerusalem where laid a wreath in the Hall of Remembrance and lit a flame in honour of the dead.
The President is scheduled to meet with Israel's Prime Minister, Mr. Benjamin Netanyahu later this evening and will visit the West Bank tomorrow for a scheduled meeting with the President of the Palestinian National Authority, Mr. Mahmoud Abbas.

Load more