The Nigeria Football Association (NFA) on Tuesday in Abuja warned that Uruguay could pose a threat to the Golden Eaglets in the quarter-finals of the ongoing FIFA U-17 World Cup.
NFA's Chief Technical Officer, Abdulrafiu Yusuf, told the News Agency of Nigeria (NAN) that the Nigerian under-17 male team must be wary of allowing complacency to set into their game.
He spoke after the Golden Eaglets beat Iran 4-1 in a Round of 16 match at the tournament holding in the UAE.
The match which was played at the Khalifa Bin Zayed Stadium in Al Ain saw the Eaglets who are the competition's three-time winners scoring three goals in the first half.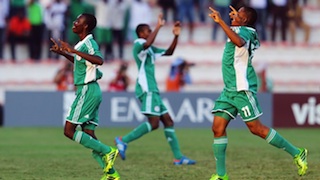 With the win, the Nigerian side will now meet Uruguay in the quarter-finals on Saturday.
"Uruguay can be a threat if they (the Golden Eaglets) allowed it. But, if they can up their game and change their style of play, they will progress.
"This should be unlike the way they played against the Swedish team, when they didn't play to the wings and did not open up, and wanted to go through the midfield, which was very difficult,'' Yusuf said.
He also advised the Eaglets to be conscious of their defenceline, and not to repeat the mistake they made against Sweden in their second Group F match.
"Against Sweden, they threw all they had into the attack, forgetting that they needed to defend.
"So, if they can open up like they did today (Tuesday) and be more mobile, they stand a chance of beating Uruguay," Yusuf said.
The NFA official however commended the players for an improved performance.
"They had an improved game today (against Iran), even though the opposition was not too tough. We saw them play more to the wings today.
"They had a more co-ordinated defence and were more aggressive, compared to their previous matches," Yusuf said.
The competition which started on 17 October will end 8 November.