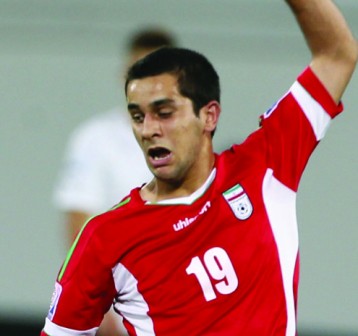 Ahead of the FIFA U-17 World Cup Round of 16 matches between Nigeria and Iran holding at the Khalifa bin Zayed Stadium in Al Ain Tuesday's evening,  the Iranians are talking tough. They believe the team can qualify for the quarter final of the competition ahead of the Golden Eaglets.
According to Iran's captain, Majid Hosseini, they are ready to defeat the high-flying Eaglets who have relentlessly shelled opposition en route to the Round of 16 of the biennial competition.
He said: "We'll do everything we can to make sure we don't let the opponents in. Everybody in the team acts as a defender and when we do go forward, we go forward as one."
Hosseini is however, aware of the task ahead of them in keeping the fearless Nigerian forwards at bay.
"It will be a tough game. They are a very strong team and will come hard at us. But we know how to tackle them. We have seen footage of Nigeria's games during the group stages and our coach has prepared us well to face them," he told khaleejtimes.com.
While the Iranians trust in teamwork, the Golden Eaglets pride themselves on their attack.
In Kelechi Iheanacho, Success Issac, Chidiebere Nwakali, Musa Yahaya and Taiwo Awoniyi, Nigeria have a marauding attack which is sure to instill fear in the opposition.
Iheanacho had netted four goals in Nigeria's win over Mexico. He was instrumental in Nigeria's qualifying for this year's competition when he scored a hat-trick against Congo in Marrakech in Morocco in April.
Coach Manu Garba has backed his front line to do the job again when they take to the field at 5pm local time.
"My attack is blistering and we can destroy any team on our day," said Garba on a monitored radio programme in Lagos early today.
Meanwhile, a member of  Technical Committee of the Nigeria Football Federation, NFF, Paul Bassey has warned the Eaglets not to be complacent when they confront the Iranians tonight.
Bassey, who also works as a match commissioner for FIFA, believes the Nigerian side are good enough to go all the way to the final but warned them to be wary of the threats posed by Iran.
Nigeria have lost only once to Asian teams in 10 previous meetings in the competition. That loss came against Oman in the quarterfinals in 1985. They have won six, drawn three.
The winners of today's match will take on the winners of the Uruguay versus Slovakia encounter.