Less than 48 hours to the hand over of Power Holding of Nigeria assets to new owners, the Permanent Secretary, Ministry of Power, Godknows Igali, said that the Federal Government had disbursed N294.51 billion to disengaged PHCN workers.
Igali made the disclosure to State House correspondents after a special preparatory meeting to strategise on the 1st November physical handover of PHCN successor companies to private investors.
The meeting was chaired by Vice-President Namadi Sambo at the Presidential Villa.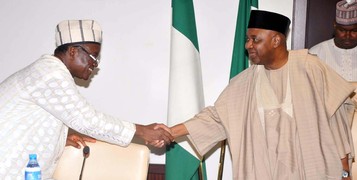 Igali said that N214.22 billion was paid as severance directly to the beneficiaries' personal accounts, while N80.29 billion was paid as gratuity to beneficiaries' pension fund administrators.
He said that out of the 47,913 PHCN members of staff who went through the severance process, 40.093 had been fully paid, leaving out 7,820.
From the 7,820 staff, Igali said that 605 were validated on Tuesday and would be paid before the end of the week.
Igali said that the remaining beneficiaries yet to be validated for payment had one issue or the other in their data capturing and electronic payment processes.
"Some members in Enugu Distribution Company, about 1,478 have their biometric capture corrupted by virus and a new consultant has been moved to Enugu to recapture them.
"Those workers would not be accommodated. Additional 929 other workers from all over the country also had their biometric data corrupted.
"This is a usual thing that happens when you are dealing with such large numbers and we are bringing them to Abuja at the expense of government for their biometric data to be recaptured so that they can be paid their entitlement immediately.
"There were also duplications of various natures, names were duplicated and accounts were duplicated.
"For example, there are cases where people have three names and while filling, they put only two names,'' he said.
Igali said there were cases of about 2,500 staff that were very bad, but still being handled by the committee.
He said there were specific cases of people who did not have any record or documents to back up that they were PHCN workers but identified by people who had been in the system.
"These are mostly casual workers and their cases are being looked into.
"There are a lot of casual workers but we brought down the numbers as low as possible to 2,500 and the cases are being addressed,'' Igali said.
He said government had set up a technical committee, which was working day and night to validate as many people as possible for payment.
Igali commended the maturity and cooperation displayed so far by labour in the privatsation process.
Reacting to the threat by the PHCN workers to down tools and frustrate the handing over process, Igali said government had demonstrated good faith in the payment of the severance allowances.
He also reiterated that government was enjoying good working relationship with labour in the privatisation of the sector.
" Physical handing over of assets will take place as scheduled simultaneously across the country on Nov. 1. Labour has shown a lot of cooperation. We enjoy working with them. With these payments, we are home and dry.
"Let me add that paying these workers does not mean we are sending them into the labour market.
"A lot of them will still be recruited by the private sector while the dead woods will obviously be dropped for the new blood to be injected into the system.
The Director-General of the Bureau of Public Enterprises, Mr Benjamin Dikki, said that with the full take-over of the power plants by the private sector, electricity situation would gradually improve.
He said there would be influx of fund that would improve power supply in six months.
The Director-General, Budget Office, Dr Bright Okogu, said the privatisation of the power sector, though, a complex one, the government was pleased to have reached the present stage.
He commended the labour leaders for their maturity and described the payment of the workers as a demonstration of government's commitment to ensure that the process was successful.