The Yaba College of Technology (Yabatech), Lagos, on Thursday graduated 7, 040 at its 28th convocation with 197 students graduating with distinctions in the Ordinary and Higher National Diploma programmes.
Of the 7,040 students, 3,740 were of the 2010/2011 session, while 3,300 belonged to the 2011/2012 session.
The Rector of the college, Dr Kudirat Ladipo, said at the convocation ceremonies that during the 2010/2011 session, 24 distinctions, 409 upper credits, 815 lower credits and 171 pass were recorded at the HND level.
Similarly, 61 students had distinctions, while 461 got upper credit with 930 graduating in lower credit, she said.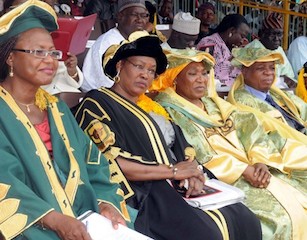 Ladipo noted that the OND results were also impressive with 84 distinctions, 608 upper credits, and 1,122 lower credits.
She said the college had introduced seven new programmes following the approval of the National Board for Technical Education (NBTE).
She listed the courses as HND book publishing and mechanical engineering technology as well as ND marketing, agriculture and bio-environmental engineering technology.
Others include marine engineering and polymer technology.
Ladipo added that the Governing Council had approved the introduction of leisure and tourism course at the institution's campus at Epe.
"The college will continue to appreciate the Federal Government and Tertiary Education Trust Fund for their support through capital grants and intervention funds for infrastructure and academic development,'' she said.
While advising the graduating students, the rector added:"I am sure that you would have imbibed the culture of excellence which is synonymous with your alma mater.
"I charge you to be good ambassadors of this institution and the country."
In his speech, the Minister of Education, Mr Nyesom Wike, said education should be purpose-driven for the development of the individual and the nation.
Wike, who was represented by Mrs Hindatu Abudulahi, Director, Tertiary Education in the ministry, described education as pivotal to the nation's development.
"Education is pivotal to the transformation agenda of the present administration. This is why President Goodluck Jonathan continues to pay great attention to our education system.
"As a nation, we must confront the reality that education has to be functional in the sense that it must be structured to meet the requirements for national development,''he said.
Also speaking, Chief Ebenezer Babatope, the Chairman of the Governing Council, thanked the Federal Government for approving a second term for the rector.
The News Agency of Nigeria (NAN) reports that Mrs Folorunso Alakija, the Chairman, Famfa Oil and Dr Nuru Yakubu, Commissioner, Independent National Electoral Commission (INEC), received fellowship awards of the institution.