Taiwo Adelu
After unlocking Uruguay in Saturday's quarter final match at the Sharjah FC Stadium courtesy of a brace by Taiwo Awoniyi, Golden Eaglets' Head Coach, and Manu Garba said playing Sweden in the semi-final on Tuesday would be a dream match.
Morakinyo Abodunrin, Media Officer of the Golden Eaglets said in press release on Saturday from UAE that the Nigerian team had to draw on their rich experience to draw 3-3 against the Europeans in their preliminary Group F match in Al Ain penultimate week but Manu said it would be a different ball game when the two teams meet again in the semi-final at the Rashid Stadium in Dubai.
With a total of 20 goals in five matches, the Golden Eaglets remains
the best attacking team at the U-17 FIFA World Cup UAE 2013 and Manu
said his wards would be battle-ready for the Swedes.
"I want to congratulate the boys for a job well done today against Uruguay and Sweden should be ready for our firework in the semi-final match on Tuesday," he said.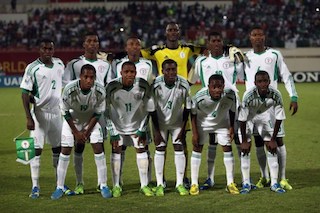 "We have learned so much playing against Sweden the last time but we shall be ready for them this time around."
With African champions Cote d'Ivoire bundled out by Argentina 2-1 in an earlier match played at the same Stadium.
Manu noted the onus is now on the Golden Eaglets to carry the banner of the continent.
"It is unfortunate that our African brothers, Cote d'Ivoire are already out of the tournament but we are going to fly the flag of the continent since so much would be expected from us," he noted in the locker room.
Meanwhile, two-goal hero against Uruguay, Taiwo Awoniyi has dedicated
his brace to members of his family as well as his grassroots' coach.
Awoniyi who now has three goals in the championship, said he can never
forget a certain coach Abdulrazak Olojo who discovered him at United
Academy FC of Ilorin.
He said: "I'm very happy that I was able to score the goals today and
apart from my teammates and the coaching crew, these goals are for
members of my family.
"I can't forget the coach who discovered me but my greatest gratitude goes to God for this sweet victory against Uruguay today," added
Awoniyi also has good words for his father: "My dad gave me the opportunity right from the childhood to play football and I want to thank him so much."