AYODEJI DEDEIGBO
Saturday was a tragic day for the Omotoshos as a member of the family, Azeez Omotosho, 35, a panel beater, was killed by a policeman in Oshodi area of Lagos State, southwest Nigeria. The killer cop has been arrested and he is in detention.
The incident happened when Azeez, a father of three, went to pick up his family at the family house, at 28 Aina Street, Ladipo, Oshodi, where his wife also has a shop.
As he got to the junction of his house, he saw his friend's car parked by the side of the road, with some policemen attached to Shogunle Divisional Headquarters standing beside it.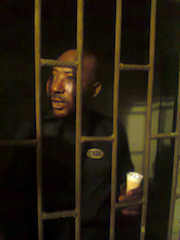 He stopped to plead with the officers for his friend to be released, but an officer, identified as Corporal Gabriel, became angry and shot him at close range.
Gbenga Aderanti, a friend of the deceased said: "The picture is not yet clear to me, because he left me at about 9.45p.m. and promised to come back to see me because I was holding his phone. He wanted to go and drop his wife and children at home.
"The next thing I saw was people running helter-skelter, after which it was confirmed that it was the gunshot we heard that killed him. I really do not know what transpired between him and the policemen as I was still at the spot he left me."
Aishat Olaosebikan, a sister to the deceased said: "They shot him at about 8.55p.m. The deceased was coming to pick his wife and children at her shop and when he got to the junction very close to the house, he saw his friend's car which the police had arrested. He came down from his car to beg for the release of his friend.
"The next thing Corporal Gabriel did was to raise his gun and shoot him two times at close range. Immediately he shot my brother, he escaped from the scene of the incident," Olaosebikan stated.
The killer cop who was later arrested and is now in detention spoke on Sunday to our reporter and other members of the late Azeez family, behind bars.
Corporal Gabriel said: "I actually killed Azeez Omotosho, a.k.a. Panel. It is the devil's work, please forgive me. Yesterday (Saturday) I was not myself, I was heavily drunk when I perpetrated the act."
The killer cop was said to have been serving in Shogunle Divisional Headquarters, Oshodi Lagos.
Kareem Ajibade, a friend to the deceased said: "The killer cop usually operates illegally at night, even when he is off duty, you will see him carrying gun about at night."
Before he was gunned down, Azeez resided at 6, Jimi Thomas Street, Oshodi, Lagos. He was shot at the junction of Oyegunwa in Oshodi, where the police set up their illegal road block.