Gov. Liyel Imoke of the southern Nigerian state of Cross River on Monday presented a budget of N176.3billion for the 2014 fiscal year to the State House of Assembly.
Imoke said that 70 per cent of the budget was for capital expenditure while 30 per cent was for recurrent expenditure, adding that the economic sector would receive 50 per cent of the estimates.
"This represents 17 per cent increase over the 2013 Appropriation Bill; 70 per cent of this shall be committed to capital expenditure requirements, while 30 per cent would be earmarked for recurrent obligations'', he said.
The governor added that the state hoped to achieve this projection by generating over N30.91 billion from internal sources, N50 billion from the Federation Account, and N92.62 billion from capital receipts.
"We expect an opening balance of N2.77 billion'', he said.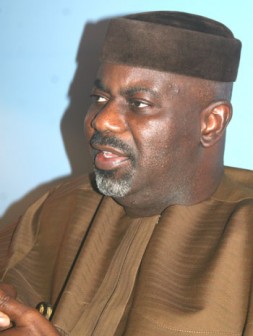 According to Imoke, Social Services received N41.54 billion, representing 24 per cent; Regional Development, N16 billion, representing nine per cent and General Administration, N31.21 billion, representing 17 per cent.
"Understandably, the economic sector, which has the highest allocation, is expected to stimulate the economy, create tangible value chain and employment for our teeming youth population. In 2014, we shall continue with our partnership with the Federal Government to boost the production of maize, rice, cocoa and cassava.
"We will also explore partnership opportunities with foreign agro-concerns to boost the agricultural sector. We shall pursue value addition incentives such as the establishment of cottage industries which will advance employment opportunities for our youth population.
"We expect to see an expansion in employment opportunities from Wilmar International's oil palm activities for up to 5,000 people.Similarly, Dangote's investment in a pineapple plantation, which will hopefully come on stream within the coming fiscal year, will see up to 3,000 people productively engaged'', he said.
Imoke pointed out that the government had provided N2.88 billion to accomplish its agricultural programmes.
The Speaker of the House, Mr Lary Odey, commended the governor for his purposeful leadership and promised that the legislature would expedite action on the passage of the budget.