The head of Nigeria's presidential panel tasked with seeking an amnesty deal with Boko Haram said Tuesday that key members of the extremist group wanted peace talks but the credibility of the claim remained in doubt.
Kabiru Tanimu Turaki, chairman of the amnesty committee which was created in April, was speaking as he submitted his final report to President Goodluck Jonathan in Nigeria's capital, Abuja.
"The process was initially difficult," Turaki said of trying to start negotiations with the insurgent group that is blamed for killing thousands since 2009.
"However many of the key members of the insurgents… have positively responded to contacts and have accepted the dialogue options capable of full resolution of the conflict," he told Jonathan.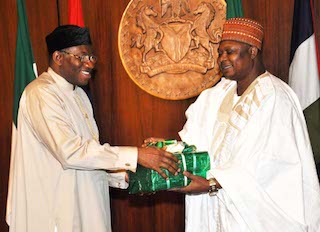 Jonathan accepted Turaki's proposal to set up a fresh panel to further pursue peace talks.
Boko Haram's purported leader Abubakar Shekau, declared a global terrorist by the United States, has categorically ruled out such talks and dismissed claims that his commanders have had contact with Turaki.
Analysts say Boko Haram, whom the United Nations' High Commissioner for Human Rights on Tuesday said could have committed crimes against humanity, likely has many factions, with Shekau leading the hardcore Islamist wing that is totally opposed to dialogue.
Other fighters, including youths who have been radicalised through crippling poverty, may be open to a peace deal, analysts have said.
But many have doubted the credibility of Turaki's committee since it began work six months ago.
In July, Turaki said he had reached a ceasefire deal in principle with Shekau's second-in-command and that Shekau had authorised the talks but the violence continued unchecked.
Shekau later mocked the claim in a video.
In thanking Turaki on Tuesday, Jonathan described the task of trying to talk to Boko Haram as "not a ballroom dance", voicing relief that none of his appointed negotiators had been harmed.
The president said he would consider the creation of a victims support fund.
Jonathan conceded a point long-argued by critics that any military solution to end the fighting must be matched by a plan to improve the economic prospects in the north.
"Force alone, no matter how, cannot bring peace," the president said.
The comments came as the military pressed on with its five-month-old offensive aimed at crushing the uprising.
The latest operation on Monday killed seven suspected Islamists in the northeast, the hotbed of the conflict, according to the army.