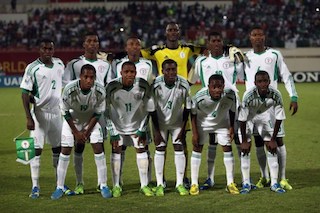 President Goodluck Jonathan has congratulated Nigeria's Golden Eaglets on their qualification for the final of the ongoing FIFA under-17 World Soccer Championship in the United Arab Emirates.
The President applauded the Eaglets' enthralling 3-0 victory over their Swedish opponents in the Semi-Final match played Tuesday.
President Jonathan urged the Nigerian team not to be over-confident as they prepare for the final match against Mexisco.
Jonathan advised the Eaglets not to take victory for granted, but to stay focused, train well and "deploy their full arsenal of strength, determination and artistry once again to ensure that they overcome the Mexicans once again and return home with the Under-17 World Cup."