Swiss scientists who analysed samples from the corpse of late Palestinian President Yasser Arafat on Thursday confirmed the abnormal presence of radioactive polonium in it.
Patrice Mangin, the Director of University Centre for Legal Medicine, Lausanne-Geneva (CURML), said the analysis, however, indicated that poisoning remained a hypothesis and not a certainty.
He added that the investigation could not exclude that polonium was the cause of the death of Arafat but the results could not conclude that Arafat was poisoned.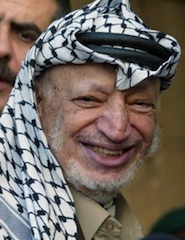 The expert stated these at a news conference held on Thursday after the test report was hand over on Tuesday to representatives of the late Palestinian leader's widow, Suha Arafat, and the Palestinian National Authority,
Mangin said several factors such as the long delay between Arafat's death and the start of investigations made analysis difficult, having said that they had to work on samples partially destroyed.
Arafat died at a French military hospital in 2004 from an undisclosed condition.
No autopsy was performed on the corpse and no clear medical information on the cause of death was released. (Xinhua/NAN)