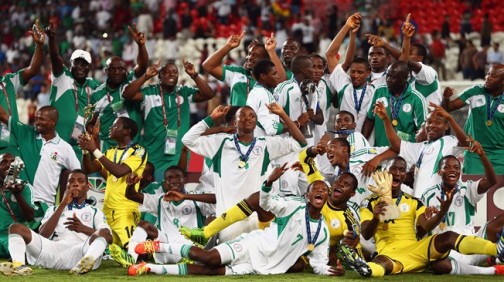 Nigeria on Friday in Abu Dhabi in the UAE claimed three individual and one team awards to add to the 2013 FIFA U-17 World Cup.
The country's under-17 men football team won the competition with a 3-0 win over defending champions Mexico.
But it did not end there for the competition's most successful team as two of its players were among the award winners, while it also won an award as a team.
The team's highest goalscorer, Kelechi Iheanacho, emerged as the competition's most outstanding player by winning the adidas Golden Ball.
The player who scored a total of five goals against Mexico, with four in a group match and one in the final, scored a total of six goals in the competition.
This was apart from providing seven assists as the team scored 26 goals in seven matches.
He has thus emulated the likes of Cesc Fabregas, Landon Donovan and Toni Kroos before him.
He also won the adidas Silver Boot as the competition's second highest goalscorer with six goals, one behind the top scorer Valmir Berisha of Sweden.
Goalkeeper Dele Alampasu also won the adidas Golden Glove as the best goalkeeper of the tournament.
Nigeria, now record four times winners of the competition, also won the FIFA Fair Play award for its sportsmanship and approach to the game.