NEW YORK CITY(AFP) – Multi-platinum selling diva Lady Gaga took off in a custom-made flying dress to proclaim a new cultural revolution for Monday's global launch of her third album, greeted by mixed reviews.
Fighting to retain her "Queen of Pop" crown, Gaga strapped herself into the fly suit, clamped on a helmet and wearing little else but a cut-out black leotard and knee-high sparkly white stiletto boots, took off and propelled through the air at a press conference in a Brooklyn warehouse.
"Artpop" signals a return to the limelight for Stefani Germanotta — known as Lady Gaga — after she was forced to tone down her usually ubiquitous media presence to undergo hip surgery.
"I just want 11/11 to be a time for us all to really open our minds and project a brand-new future in communication, in technology, in visual art," Gaga told a packed press conference ahead of a VIP album launch party later Sunday.
"It's really not about me at all."
She has collaborated with a number of world famous contemporary artists, including Jeff Koons for the album's artwork, showing her as a post-modern Botticellian Venus.
An enormous white statue sculpted by Koons of a naked Gaga, legs splayed, with a giant blue ball in front of her crotch, will be the first sight to greet guests when they enter Sunday's party.
"I think that anytime you have a voice in the world and you're a public figure if you have the potential to start a revolution I feel it is your duty to do so," she said.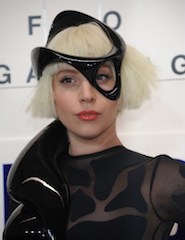 Gaga called the battery-operated flying dress Volantis and an "early prototype" for what she said could be a new dawn in travel.
She presented it as part philosophy, part science, and part metaphor for herself, and the talents of ferocious talented young people who go unrecognised across the globe.
But when questioned by reporters she was vague on what precise use it could ever have, its financing and her maiden flight was halting.
Instead of gliding from the back of a Brooklyn warehouse to a small platform in front of the cameras, she took off and hovered for a few seconds several times, coming to juddering halts and walking the last few steps towards the podium.
"There's so much more that we plan to do with her, so many dreams that we have for the future of travel, for communication, for technology, fashion and the arts," she told reporters.
"But most importantly today we just wanted you to feel inspired."
Unveiling an app that is to accompany the album she finished the by saying: "I hope today is a change in pop culture."
The 27-year-old New Yorker established her reputation on chart-topping songs and surrounded herself with a constant media buzz.
But the hotly-anticipated third album has met with only lukewarm reception from critics in Britain and the United States.
"Artpop" is a return to the danceable synthpop of her massively successful 2008 debut album "The Fame" after experimenting with other styles on her second album, "Born This Way."