Kazeem Ugbodaga
The Lagos State Government has asked Nigeria's Federal Government to declare a national emergency on the state of the nation's roads, road network and the railway system infrastructure.
Lagos Commissioner for Transportation, Kayode Opeifa made government's position known at the ongoing summit of the National Council on Transportation, NCT, at the City Hall, Lagos, Southwest Nigeria on Monday.
He lamented the decay in the nation's infrastructure, especially in the area of roads and railway service.
He said declaring a national emergency on roads and railway services would enable the FG pay more attention in developing the infrastructure urgently.
He also urged the NCT to set in motion the development of a national strategic transportation master plan tailored towards socio-economic integration and economic growth of the nation taking cue from South Africa, USA, UK and Germany models.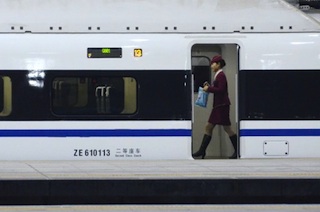 Opeifa further urged the FG to immediately repeal the 1955 National Railway Corporation, NRC act, National Inland Water Ways, NIWA act and all national laws that did not permit active private sector participation or restrict state government's participation in the transport system except where national security is an issue.
"The NCT should develop as a matter of urgency a comprehensive National Plan for the needed human capacity in the transport sector. Definitely as currently structured and operating, our port system is detective and not performing optimally. There should be radical reform of the ports operation to remove delays in clearing and other operational deficiencies.
"In the area of public transportation, focus should be on integrated mass transportation with public private partnership. However, State Government should treat public transportation as a security/national interest sector," he stated.
Opeifa urged the FG to immediately commence road safety audit programme for the country and provide special grant to states for all dual carriage highways with over 50% utilization and called for urgent need for the Federal Government to study the Lagos experience and experiment, review and adapt as a standard for implementation at state level.
Speaking, the Permanent Secretary, Federal Ministry of Transportation, Engr. Nebolisa Emodi said the Federal Government was not only committed to the development of quality infrastructure, but also mindful of the fact that its resources were inadequate to meet and bridge the current huge infrastructure gaps without the participation of the private sector.
To this end, he said the government had initiated some reform measures, including four transport reform bills, aimed at providing the enabling environment for more participation of the private sector, state and local governments in providing adequate and efficient transport infrastructure through Public Private Partnership, PPP, strategy.
"There is no doubt that with appropriate transport infrastructure, Nigeria's vast market will be veritable ground for competitive local and international trade which will boost social economic growth and increase employment opportunities.