Okafor Ofiebor/Port Harcourt
THE Senator representing Rivers South-East Senatorial District, Magnus Abe has attributed Governor Rotimi Amaechi's persecution in the current political dispensation to his resilience and doggedness in defense of Rivers State.
Senator Abe said this while addressing the people of Andoni Local Government Area in Ngo where he also presented wrappers to women on behalf of his wife Bariyaah.
"As a person you voted to represent you at the upper chamber, it is important I come occasionally to tell you what is happening. I think it is time for Rivers people to know why their Governor on oath to defend the state and its people is being victimized, harassed, oppressed and persecuted"; the Senator hinted.
He cited the sudden disappearance of monies accruing from the disputed Suku oil wells, agreed by Rivers and Bayelsa States government to be kept in a special account until the determination of discrepancies in record noticed during the Odili administration, among others.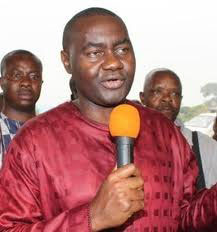 The Chairman, Senate Committee on Petroleum (Downstream) explained that, had Rt. Hon. Chibuike Amaechi been a bad leader or acted like persons calling him names today, he would have negotiated his pocket rather than defend Rivers State.
Senator Abe who described Governor Amaechi as a courageous leader urged Rivers people to beware of selfish and desperate politicians who have decided to pitch tent with those bent on drowning the state.
"Because of their selfish interest, some of our brothers have chosen to pitch tent with those we stood by yesterday, to fight our Governor and destabilize our state. Genuine Rivers people must resist them".
He cautioned that the propaganda of opponents of Amaechi has been to paint the Governor as a disrespectful leader even when they know he is not, adding "as a people God has put together, we must unite and be resolute in our support for our Governor in order not scare successive leaders". Abe told Andoni people.
On his part, Chairman, Andoni Local Government Council, Orom Nte said, he was happy with the unparallel representation of Senator Abe in the National Assembly, assuring that the people of Andoni will continue to support him and Governor Amaechi as they strive to bring dividends of democracy to the people at the grassroots.