GBENRO ADESINA/IBADAN
Governor Abiola Ajimobi of the western Nigerian state of Oyo today reflected on happenings after the dissolution of the State Executive Council, saying that he was under serious pressure from all sections of the public to field their nominees, before the appointment of the new Commissioners and Special Advisers.
The governor, while speaking at the swearing-in ceremony of the newly-appointed Special Advisers at the Executive Council Chamber of the Governor's Office, Ibadan, said that the pressure was borne out of the willingness of several indigenes to serve his administration.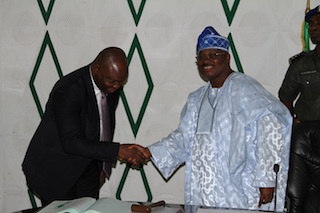 Consequently, he charged the new appointees to be mindful of the fact that they were selected out of the many other people who were equally qualified, able and willing, and then put in their best to justify their appointment.
"The appointment of a Special Adviser, who is of cabinet rank, is a position of trust and responsibility. You are expected to know more than the commissioners and even me, in order to be able to advise me. Therefore, you must see your appointment as a rare opportunity and discharge your duties to the best of your ability," the governor said.
He attributed the re-appointment of some of the Special Advisers to their contributions to the success of his administration during their first appointment, adding "you made pass-marks, for you to be able to get re-appointed into the cabinet but you must always reflect on your activities in order to notice your areas of imperfection."
Governor Ajimobi told the new appointees not to be afraid of criticisms, saying "whatever you do, people will criticize you; it is normal. Today, people criticize Ajimobi; yesterday, they criticized Alao-Akala; day before, they criticized Ladoja. Many past leaders had equally been criticized. So it is a normal phenomenon".