Seun Bisuga/ Awka
All Progressives Congress gubernatorial candidate, Chris Ngige, has condemned INEC's inconsistencies in the ongoing election in the state. So has the candidate of the Labour Party, Ifeanyi Ubah.
Ngige said the electoral body should not have allowed Prof Onakagu to stay on as state resident electoral commissioner and preside over the election given his incompetent role in 2011.
Ngige who cast his vote around 1:40pm at Nkwo Ide, Ward 1,unit 10, noted that election materials were delivered very late to places he described as his stronghold. "I'm not satisfied with the election process, if anything, I'm sad. I'm sad that the trust we put in INEC has been betrayed again. In 2011, we ran for the gubernatorial election but they disenfranchised us by removing our names from the voters register. Today it is re-occurring in Idemili North and part of Idemili South as well," he said.
He said INEC's target of his stronghold will be officially appealed. "In Idemili North they have a three prong attack on us with materials not coming and they claimed that youth corpers were on strike. The people were not accredited until 1:00. There's no result sheet in most of the centers. In this modern day and age we are talking about result sheet not coming," he explained.
"In some areas like Ogidi, Abatete, there was violence. They snatched ballot boxes, snatched result sheets and INEC officials turned their eyes the other way and they want election to go on, no meaningful election will go on when you are accrediting by 2pm and result sheets are taken away."
He added that: "They went and dust up my senatorial results and used it to starve people of voting materials. At GRA, some part of Awka South and Idemili North and South, voters were starved of accreditation."
"Idemili North has a voting strenght of 180,000 and it cannot be ignored. INEC as no business keeping the present resident election commissioner Prof Onukaogu to conduct this Anambra election. He did conduct this election in 2011, we protested those elections, my party and I, and he announced results forcefully. We petitioned the court and it upturned those results and annulled the election. We went to rerun election and we were proved right."
Anambra gubernatorial contestant Ifeanyi Ubah of Labour Party, Ifeanyi Ubah also lamented the late arrival of election materials to many polling units in the state. Ubah who was accredited around 10.30 a.m. had to wait for over two hours before he was attended to.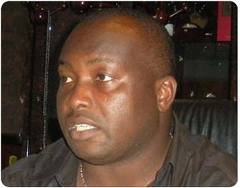 Ubah's supporters were similarly not impressed by INEC's coordination. Many of his supporters were not accredited because their names were not found on the election sheet. Although the election widely peaceful many registered voters did not get the chance to vote.
Godwin Ezeemo, Peoples Progressive Alliance gubernatorial candidate also complained about the late arrival of materials in some parts of the state.
Ezeemo, who was accredited around 11:00 a.m., said the late arrival of election materials marred the credibility of the election.
He said INEC had fallen below expectation. Elections results are being collated and the result is expected to be announced early tomorrow.