Senator Chris Ngige, the governorship candidate of the All Progressives Congress has indicated that his party will challenge the outcome of the Anambra State governorship elections at the election petition tribunal.
He described the election yesterday as a mockery of democracy.
Ngige who spoke to newsmen at the Old English hotel in Awka said his followers were told to boycott the rescheduled elections in Idemili North.
Ngige accused the leadership of the Independent National Electoral Commission of systematically rigging the elections in favour of the All Progressives Grand Alliance.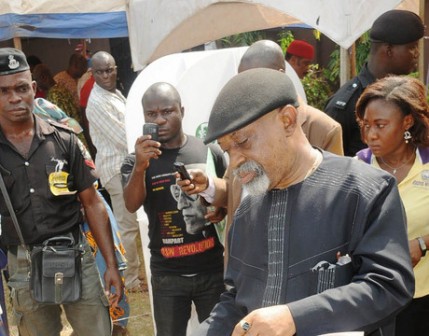 Ngige who represents Anambra Central in the senate was bitter that voters in his stronghold were not allowed to cast their vote.
"The events of yesterday suggest that INEC has taken three steps backward. We don't know if Iwu's INEC is better. We are asking the commission to conduct elections in the 346 polling units and the election should not be held today," he said.
Ngige was also vexed that the rescheduled election was held a day after the failed election. "If they go ahead to conduct the elections today we are not participating because today is Sunday. And holding the elections today is an affront on Christianity. They are conducting it today because they have a premeditated plan to announce the governor elect today."
Ngige said that although he and his party had perceived that there would be rigging, they never imagined it would be meted out in such magnitude.
"We are not disappointed because we are used to it. But I weep for Nigeria considering that 2015 is fast approaching. All the fears we raised at the stakeholders forum, happened yesterday. In my strongholds and other parts of the state, there was manipulation of voters register, deleting of names, late arrival of materials among others," he explained.
Ngige said he will go to tribunal as that is the only option.
"According to the electoral act the only option in the face of this charade is to go to the tribunal. And my party will know what to do in that direction."
Before the election Ngige had called for the removal of the resident electoral commission, Prof Onukaogu whom he accused of inconsistencies and partiality.