Seun Bisuga/ in Awka
Philemon Leha, Deputy Inspector General, Operations have commended the efforts of the Nigerian Policemen that participated in the gubernatorial election in Anambra State Saturday.
He thanked all the policemen that participated in the exercise.
He told PM News after the election that no arrest was made throughout the exercise. "My men were fully on ground today and I thanked them for this. If there was any crisis my men would have been on top of the situation because they were battle ready," he said.
He explained that more security men were deployed to the hinterland because they gathered intelligence that there could be trouble.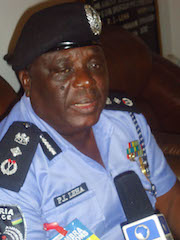 "My men were gallant today. They positioned and behaved themselves professionally especially in the hinterland where we heard that people might want to make trouble."
He stated that the road was blocked to forestall any negative action. "The road blocks were mounted at strategic places in a bid to curtail any attack against voters or polling officers. The stop and search exercise was also used to screen people who might be carrying anything out of place," he said.
He noted that only in Obosi did security operatives have to wait longer than usual. "The materials arrived late in Obosi so the people pleaded with INEC officials to extend election materials and extend voting as well."
He praised the people of Anambra for conducting themselves in the right manner. "I thank everyone in Anambra for their full cooperation. They made our work easy by adhering to the curfew and voting orderly," he said.