A traffic tragedy in which three school pupils were killed in an auto-accident early today on the Lekki-Epe Expreswway, in Lagos, western Nigeria, has created an unprecedented traffic gridlock on the usually busy highway.
The tragedy led to a spontaneous protest by residents nearby and Area Boys. The protesters blocked the entire expressway, making passage in both directions, impossible.
The pupils were trying to cross the road from one side to the other.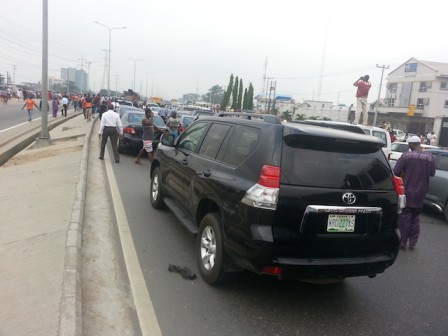 A traffic gridlock stretching over 10 kilometres built up on the road, on the way to Epe, trapping thousands of motorists going to work. A similar gridlock also built on the other side, affecting motorists coming from Chevron to Ajah.
Efforts by the police to clear the road were fiercely resisted by the hoodlums and protesters. Police shot into the air to scare away the protesters, all in vain. There were even shooting exchanges between the hoodlums and the police. An unconfirmed report said one of the protesters was shot dead by the police exacerbating the anger of the community.
P.M.NEWs reporter trapped in the gridlock said the protesters also resisted the attempt by the police to evacuate the killed pupils and the vehicles involved in the accident.
The traffic lockdown which began at about 8 a.m this morning was still on at 10.30 am, at the time of this report.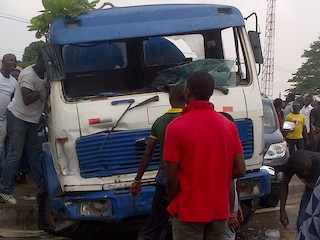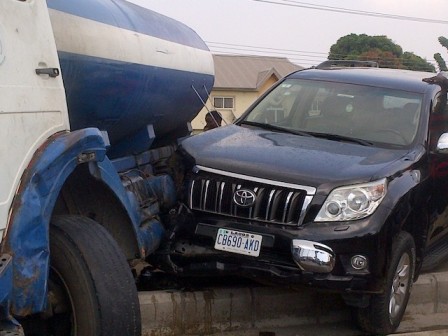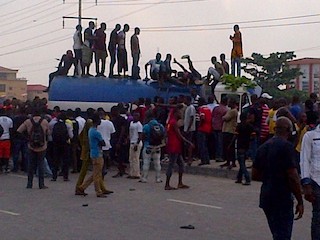 Update: One pupil dies, say Police

In a press statement later, the Police spokesperson in Lagos Ngozi Braide said:
"Today being, November 8, 2013 at about 8am, Ajah Police Division received a distress call that there was a fatal motor accident. The DPO in company with the DTO raced to the scene. On getting there, they discovered that it was an accident involving one Blue Mercedez water tanker(truck) with number plate XZ87JJJ and a black Toyota Prado SUV, marked CB690AKD.
"Preliminary enquiry conducted showed that while the Prado SUV gave way for the school pupils to cross the road, the water tanker ran into the kids, killing one of them instantly while two were injured and currently receiving treatment in the hospital.
"Based on the foregoing, the residents, youths and indigenes got infuriated and barricaded the Lekki-Ajah expressway. They attributed their grievance to incessant accidents and lack of a pedestrian bridge, which they had been asking for.
"The situation was later brought under control as the Area commander intervened and appealed to them not to take laws into their hands which they obliged and left the road at about 1.30pm.
"Meanwhile the area is calm and quiet now."

Load more