Taiwan said Monday it had terminated diplomatic relations with Gambia, after the West African nation's move to cut ties shocked Taipei and left it with a dwindling number of foreign allies.
Gambian President Yahya Jammeh caught Taiwan unawares Thursday when he said his government had broken off diplomatic ties after 18 years owing to "strategic national interest".
Expressing "shock and regret" at the decision, Taipei sent two senior diplomats to Gambia in an attempt to rescue the relationship, but their request to meet Jammeh was twice rejected, foreign ministry officials said.
"From Monday on, the government of the Republic of China (Taiwan) terminated its diplomatic ties with Gambia, evacuated the embassy and agricultural technicians and suspended all cooperative projects," Taiwan's foreign ministry said in a statement.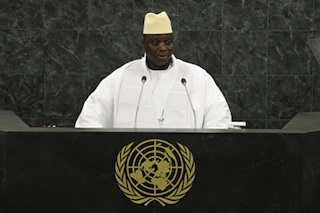 Taiwan is now recognised by just 22 countries, mostly developing nations in Africa, Latin America and the Pacific.
The move by Gambia also leaves Taiwan with just three diplomatic allies in Africa — Swaziland, Sao Tome and Principe, and Burkina Faso — at a time when China is pumping billions of dollars into the continent.
China, which has growing investments and influence in Africa, swiftly denied it put pressure on Gambia, but said support for "the peaceful reunification of China is an irreversible trend".
China's foreign ministry spokesman Hong Lei said his country had learnt of Gambia's move from overseas media.
Taiwan has poured millions of dollars into the health, education, agriculture and infrastructure sectors of resource-poor Gambia, the smallest country on the African mainland.
Lingering hostilities remain between Taiwan and China following their split in 1949 at the end of a civil war, although tensions have eased since 2008 after President Ma Ying-jeou came to power. He was re-elected in January 2012.
The Ma administration claimed that the two sides have stopped engaging in a decades-long bitter diplomatic tug-of-war, luring away each other's allies with generous financial packages.
However, Taiwan's opposition have questioned the wisdom of the diplomatic truce with China.
Beijing still claims the self-ruled island as part of its territory awaiting reunification, by force if necessary.