Stephen Okechukwu Keshi has been described as a coach who knows his trade very well and always gets what he wants with his team.
This was the assessment of former teammate of Keshi in the Flying Eagles of 1983 squad, Paul Okoku, a high chief of Ogume Kingdom in Ndokwa West Local Government area of Delta.
Okoku, who played for the defunct Leventis United of Ibadan came all the way from USA to give support to his colleague, Keshi whose team played Walya Ibex of Ethiopia in the second leg of the Brazil 2014 World Cup playoff on Saturday, 16 November, 2013 at the U.J. Eusene Stadium in the ancient city of Calabar, Cross River.
Okoku told P.M.NEWS Sports on Sunday  in Calabar, Cross River State that he has been a well travelled supporter of Nigerian national teams especially the Super Eagles and he had studied the technical prowess of Coach Keshi for him to conclude that he is a gaffer who knows what he is doing as the coach of Nigeria.
"Nigerians should give the glory to Keshi. He has made history as the first local coach to win the Africa Cup of Nations for the country. The first coach to qualify two countries (Togo and Nigeria) to two separate FIFA World Cups in Germany (2010) and Brazil (2014). Not only that, Keshi is the first indigenous African coach that took three different countries to the Africa Cup of Nations (Mali, Togo and Nigeria). These are great feats that have already boosted the credential of my teammate, who I'm proud to be associated with," said Okoku who was part of the Nigerian team that won silver medal at the 1984 Africa Cup of Nation.
"I think it is high time Nigerians and critics come to term with the fact that Keshi is a good coach because he has been giving us results. He has not only gradually restoring the lost glory of the Eagles in the comity of footballing nations; but he is also building an enduring team for us. He keeps improving on every game his team played. I'm particularly happy with the chances he has been giving to the players in the local league which in no distant future will see our league becoming popular among fans in the country. This is the best chance the local league players will have collectively and the players in turn have been justifying their inclusion in Keshi's team," said Okoku who grew up at Bode Thomas area of Surulere, Lagos.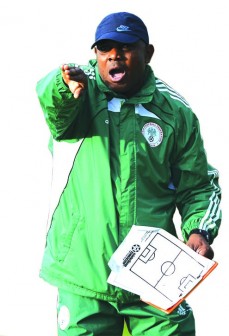 The graduate of Alabama Agricultural and Mechanical University foresees the Eagles under Keshi as a team who can reach the semi final stage of the Brazil 2014 FIFA World Cup which holds next June.
The vice captain of the Flying Eagles of 1983 set said: "I see this team under Keshi playing in the semi final stage of the World Cup next year. I based my prediction on my close assessment of the team since Keshi took over in 2011. They keep improving on every game and giving enough support from the authorities with Grade A friendly matches between now and the World Cup, Keshi's Eagles will be a team to watch in Brazil."
In his assessment of the World Cup playoff against Walya Ibex of Ethiopia in Calabar last weekend, Okoku, who was also in Nigeria to meet with the leadership of National Sports Commission, NSC, on the redemption of the scholarship pledge made by the Federal Government to the 1983 Flying Eagles squad to the FIFA U-20 World Cup in Mexico, said that "obviously the team, did not play very well, but I want to believe that this could be the game's plan of the coach who had the confidence that the Ethiopians could not beat his team in Calabar. I still have to give kudos to the Eagles for securing the World Cup ticket for us. To me I will rather play a bad game and win than to play a beautiful game and lose. I'm happy that the Eagles were determined from the first match of the qualifying series to the last game. We are all witnessing the result today."