The French hostage held for 11 months by Ansaru terror group in Nigeria told French television on Thursday he made his audacious run for freedom after his captor left a key in the door by mistake.
Francis Collomp, speaking on the TF1 channel, described how on the night of November 16 one of his captors entered the dungeon where he was kept to perform the ablutions required for Islamic prayer, but left the keys in the door.
"While he was in the bathroom, very quietly I opened the closed door. I had all my things ready to leave and then I locked it (behind me)," the 63-year-old engineer said.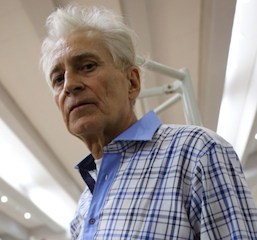 "I ran into an alley towards the main road, then on the road I started walking quickly so that no one would notice me," he said.
After trekking for four to five kilometres, Collomp found a motorcycle taxi, which took him to a police station in Zaria, a nearby town.
The Frenchman was abducted at gunpoint in Katsina state last December, and was held for nine months in the city of Kano before he was brought to Zaria, around 160 kilometres (100 miles) away by road to the southwest, two months ago.
Collomp said he was "in the loop" about negotiations for his release, and was spurred to action after failing to be freed in early summer and with the unlucky fate of others in his position on his mind.
"I should have been freed in June but that didn't happen. Then they told me that things had hit a dead end. I also knew the story of the journalists that were killed, and that had an effect on me," he said, referring to the two French radio correspondents kidnapped and murdered by Al-Qaeda in the Islamic Maghreb (AQIM) in Mali on November 2.
Collomp prepared his escape for months, he said, walking up to 15 kilometres a day in circles in his cell to stay fit, anticipating a long walk awaiting him outside.
He lost 38 kilos in total, admitting he had been "on the heavy side" beforehand.
French President Francois Hollande compared Collomp's escape to "an adventure story" on the day of his return to France, saying he was proud of his compatriot and his "exceptional courage".
A Roman Catholic priest, 42-year-old Georges Vandenbeusch, was kidnapped in northern Cameroon and reportedly taken by Islamist militants to Nigeria in mid-November.
France now has seven hostages officially being held abroad, including the priest, four journalists in Syria and two people taken in Mali.