One of Britain's longest and most bitter divorce battles ended on Friday with a High Court judge branding a well-connected millionaire a liar and his ex-wife a conspiracy theorist.
Far from being "penniless and hopelessly bankrupt", as he had claimed, Scot Young, 51, was worth 40 million pounds (65 million dollars) and his estranged wife Michelle Young, 49, should get half of it, judge Philip Moor ruled.
"This case has been quite extraordinary even by the standards of the most bitter of matrimonial breakdowns," Moor wrote in his ruling, noting that it had taken over six years and 65 court hearings to come to trial.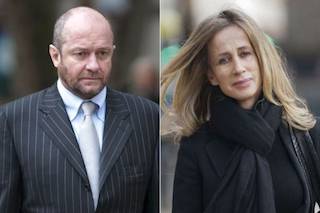 The case has made headlines in Britain because of the size of the claims and the fact that Scot Young has enjoyed financial help from high-profile friends including Philip Green, the billionaire owner of the Topshop retail chain.
Michelle Young has run up legal bills of 6.5 million pounds, while Scot Young has served six months in jail for failing to provide full and frank disclosure of his assets.
The pair were married for 17 years until 2006 and enjoyed a lavish lifestyle of mansions, jet-setting holidays and gifts of diamond jewellery, funded by Scot Young's investments in property, technology and start-up companies.
It all fell apart when the marriage broke down, coincided with what the husband described as a total meltdown of his business empire that left him "penniless and hopelessly bankrupt" with unpaid debts of 28 million pounds.
The judge said it was impossible to know the full truth of his financial position due to "the significant number of lies told by the husband to so many people over such a long period".
He ordered Young to pay his ex-wife a lump sum of 20 million pounds within 28 days.
Michelle Young maintains that the meltdown was a fiction specifically designed to hide her ex-husband's wealth and deprive her and the couple's two daughters of their rightful share, a version of events also rejected by the judge.
"She sees conspiracy everywhere," he wrote.
A furious Michelle Young branded the ruling "disgraceful".
"I stand by what I said. He's worth billions," she told reporters outside the court, according to reports in several British national media.
She also issued a written statement in which she called her ex-husband a "maniac". (Reuters/NAN)