Simon Ateba/Aviation correspondent
Nigeria's Federal Government is set to turn heavily indebted Aero Contractors Airline into the country's national carrier, photographs made available to P.M.NEWS show.Nigeria's oldest commercial airline will now be called the Nigerian Eagle and will be launched by President Goodluck Jonathan once he returns from London, sources said.
One of Aero Contractors' planes with registration number 5N BLC has already been painted into Nigeria's national colours of green and white, a photograph shows.
The plane now resembles the aircraft once used by Nigeria Airways, the mismanaged government airline that crumbled years ago.
Sources said the government has also bought ten new Embraer planes to flag off the new national carrier.The ten Embraer aircraft will be added to the planes already in the fleet of Aero Contractors Airline, the source said.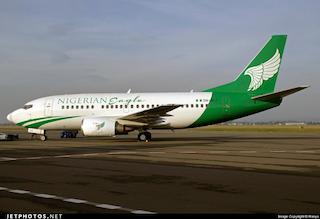 Critics have criticised the move saying that Aero Contractors was so badly indebted that the Assets Management Corporation of Nigeria, AMCON, took it over last year, when the airline couldn't pay its debts.
They said with the takeover, billions of naira borrowed from Nigerian coffers have been erased and nobody has been held accountable for the big losses.
Besides, critics argue that national airlines are no longer viable in the world as they are often being mismanaged or abused.
The new national carrier to be launched by President Goodluck Jonathan will be a privileged airline that will receive waivers for virtually everything, the source said."Arik Air will just die because it won't be able to compete.
The Nigerian Eagle will operate from the General Aviation Terminal in Lagos," the source said.