Nigeria's striking Academic Staff Union of Universities (ASUU) rose from a two-day National Executive Council Meeting (NEC) on Saturday in Kano with a resolve to keep mum until it met with President Goodluck Jonathan.
President Jonathan is due home on Sunday night, after attending a summit in London with investors. A serious stomach pain forced the president to skip the Thursday opening of the meeting.
ASUU's meeting was held at the Centre for Democratic Research, Mumbayya House, Kano, away from the ASUU secretariat.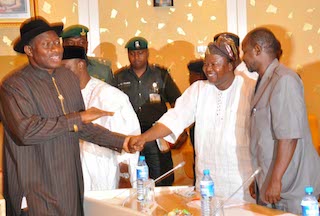 However, a reliable source in the association who spoke on Saturday, in Kano, said: ''ASUU has decided to meet with President Jonathan before making whatever decision they took during the meeting public.''
ASUU wants a meeting scheduled for Sunday or Monday and to be witnessed by officials of the Central Bank of Nigeria and Revenue Mobilisation and Fiscal Commission, a source close to ASUU added.
The source added that 60 per cent of the members wanted the strike called off while the remaining 40 per cent wanted it to continue.
The NEC meeting was billed to hold two weeks ago but was postponed following the death of a former ASUU President, Professor Festus Iyayi in a road accident in Lokoja.
ASUU embarked on a national strike that has shut down all Nigeria's government owned universities, since July.
The academics wanted government to implement an agreement reached in 2009, that would improve funding for infrastructure in the universities and welfare of the teachers.