JETHRO IBILEKE/Asaba
The list containing names of nominees as members of the Delta State Tourism Board sent by governor Emmanuel Uduaghan to the Delta State House of Assembly, has been discovered to include the name of a dead man, James Youmu.
The discovery was made when the nominees appeared at the hallowed chambers for screening during plenary.
Other nominees on the list include Efe Afe, Peter Okolotu, Hyacinth Iyere, Amah Agbajoh, Abel Eyube and Joe Morgan.
When the names on the list were called, it was discovered that the fourth nominee, Youmu was already deceased.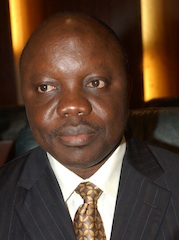 It was however explained that the deceased was still alive at the time the list was drawn, with his name included and forwarded to the House.
Meanwhile, a nominee for the Delta State Broadcasting Service (DBS), Warri, Gift Gomere, who presented herself for screening was walked out of the hallowed chamber of the Delta State House of Assembly over improper dressing.
Also, another nominee, Friday Okoh was not screened for appointment into Delta State Rural Development Agency (RDA) by the law makers for what they called unruly behaviour.
Mr. Okoh was spotted by the law makers chewing gum while standing before the Mace.
The House however confirmed the appointment of Mrs. Ifeoma Agbomah as chairman and Asigo Akpokaboowei, Emmanuel Nwaboshi and Benjamin Orhuerho as members into the state Rural Development Agency (RDA) respectively.
Nominees for appointment into the boards of DBS (Warri and Asaba) were not confirmed by the House on the ground that some of the nominees contravened the laws establishing the boards.
According to the enabling law, the board shall consist of the chairman and six members representing various interest groups including the Ministry of Information, the media, legal profession and three other members.