Maduagwu Nnaemeka Charles, 28, has been arrested at the Malam Aminu Kano International Airport, MAKIA, Kano, northwest Nigeria by operatives of the National Drug Law Enforcement Agency, NDLEA, for being in possession of 3kg high-grade pure cocaine worth N81 million.
Charles was nabbed at Kano airport on his arrival from Brazil on board Egypt Air Flight No. MS 879.
He had boarded Ethiopian Airline Flight No. ET 507 from Sao Paulo to Cairo in Egypt from he beat all security blocks, but luck ran out on him as he arrived MAKIA when operatives of NDLEA suspected his movement.
Ambrose Umoru, NDLEA Commander in-charge of MAKIA said it took his men about 14 hours to discover the cocaine neatly concealed inside two loud speakers.
"His flight arrived on the night of 20 November. Throughout that night, we searched and searched but could not discover anything. In the morning of 21 November, my men continued the search and that was when we discovered white substances concealed inside the loud speakers and when tested, it turned out to be cocaine.
"From what we observed, the cocaine was taken to the factory where the speaker was manufactured and they fitted the substance in the hollow of the speaker, this is a new trick used by drug merchants to beat security checks.
"I want to make it clear that Brazil produce highest grade of cocaine in the whole world. There is no way you can take this one as it is raw directly inside the market. What they do is to dilute it and when that happens, this 3 kg. could multiply into 9kg. and you are talking of about N81 million."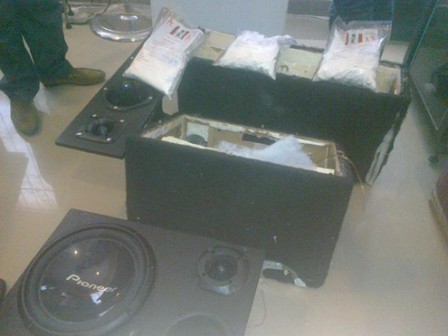 According to Umoru, investigation has shown that the cocaine was to be received and distributed in Kano, "and if this arrest was not made, the havoc this drug would have caused to our youths and the society remain unimaginable
"It took the ingenuity of the eagle-eyed operatives of the Command to discover yet another mode of concealment by these merchants of death. Let me assure the general public of the Command's desire to make MAKIA uncomfortable for drug merchants.
"I also warn drug barons and couriers that the Agency will continue to discover their modus operandi and nab them in their criminal act. It is in their best interest to regard MAKIA a no-go area as any courier that attempts to use this airport would be promptly arrested."
Charles in a chat with newsmen admitted to have been in possession of two loud speakers, but denied knowledge of the dangerous substances concealed inside them.
"Yes I was caught with 3 kg of Cocaine but I didn't know what I was carrying. I was only trying to help a stranger who identified himself as a Nigerian in Brazil
"When I was making call, he discovered I was travelling to Nigeria and he pleaded with me to assist him deliver the loud speakers to somebody here in Kano.
"He gave me an MTN Sim card and asked me to activate it once I got to Nigeria so that the owner of the loud speakers would call me for his property, but little did I know that cocaine was concealed inside the loud speakers. I don't even know the owner, I was just trying to help," he lamented.  Charles said he had survived in Brazil for a year and six months loading trucks at the park, "all this while, I have engaged in menial jobs. The last job I got before leaving for Nigeria was in a lorry park where I load trucks. These menial jobs have been sustaining me; I don't know how I got myself into this mess."
—Maduabuchi Nmeribeh/Kano