Former Justice of the Supreme Court, Justice George Oguntade (rtd) has cried out over the declining quality of judgment being  delivered by judges in the country.
Justice Oguntade expressed this concern at a book launch in honor of the Chief Judge of Lagos State, Justice Ayotunde Phillips in Lagos yesterday.
The book titled 'Landmark Judgment' is a compilation of some of the notable judgments of Justice Phillips in her over 20 years career as a judge in Lagos State.
In a brief remark at the event, Justice Oguntade praised the judgments of Justice Phillips documented in the compilation but said that it is worrisome that some judges especially in Lagos, still deliver judgments that are questionable.
He expressed concern that the moral obligation bestowed on judiciary as the last hope of the common man would soon be completely eroded if the trend continues unchecked.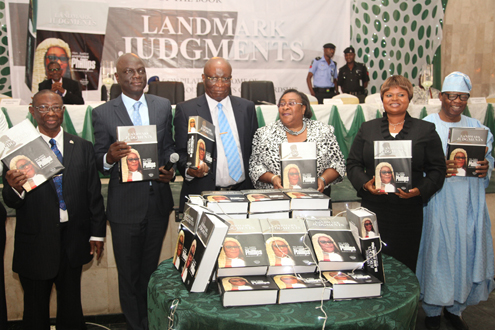 "The quality of judgment we see these days is becoming very worrisome. Even here in Lagos State, you read some judgments delivered and you just begin to wonder what the judiciary is fast becoming," he said.
The retired justice urged judges to emulate notable judges such as the Chief Judge of Lagos State, who have exhibited courage by ensuring that the right judgment is delivered irrespective of the persons involved in the matter.
"The judgments we see in this compilation is a reflection of courage which is the hallmark of a good judge. The duty of judges is to their conscience and God. You as judges must be alert to ensure that justice is not downtrodden. Speak your mind and let the heavens fall. If you are victimized, posterity will vindicate you," he said.
The book launch was attended by notable personalities in the judiciary including Lagos State Deputy Governor, Adejoke Orelope-Adefulire,  three former retired chief judges of Lagos State, Justice Fatai Adeyinka, Justice Salihu Adagun and Justice Ade Alabi, Chief Judge of Anambra State, Justice Peter Umeadi, Prof. Akin  Ibidapo-Obe, Judges and Magistrates in the state, several Senior Advocates of Nigeria, SAN among others.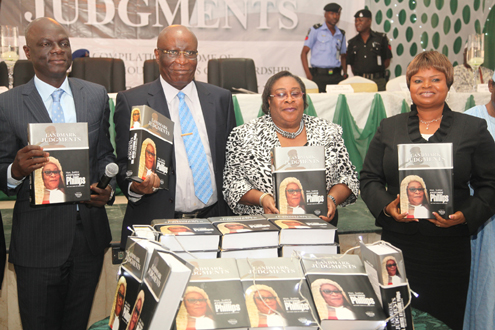 Here are some Quotes from the past judgements of Justice Phillips
"The rationale for the award of damages is to restore the injured party to the position he or she was prior to the injury. It is that sum of money which would put the party who has been injured or who has suffered in the same position as he would have been in if he had not sustained the wrong which he or she is now getting his compensation or reparation."
"Parties to an agreement cannot contract outside the law. To allow this will allow for anarchy and chaos in our legal system."
"It is a well settled rule in Yoruba customary law that a woman cannot inherit her husband's property. Indeed a Widow under intestacy in Yoruba customary law is regarded as part of the estate of her deceased husband to be administered or inherited by the deceased's family."
"Before a person is deprived of any right he believes he has, he should be afforded a hearing and that is the corner stone of our judicial system."
—Henry Ojelu & Oluchi Chiowa