The monarch of the western Nigerian town of Oyo, the Alaafin of Oyo, Oba Lamidi Adeyemi has advocated the adoption of the historic Oyo Empire as a model for the development of a strong and prosperous Nigeria.
Adeyemi made the call in Oyo during the conferment of honorary chieftaincy titles on Gov. Isa Yuguda of Bauchi State and his wives.
According to the monarch, the Oyo example is a model in empire building which can still be adopted by Nigeria in its efforts at state and nation building.
"I expect that the Presidential Advisory Committee on the National Conference will find time to understudy how Oyo became a prosperous empire and sustained its leadership over a long period,'' he said.
The traditional ruler said that the crises rocking Nigeria had assumed a frightening dimension, threatening its corporate existence.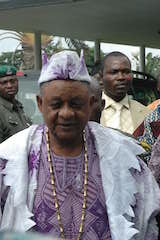 "The national question has thus far remained unresolved, one hundred years after amalgamation, making calls for a sovereign national conference strident,'' he added.
The monarch conferred on Yuguda, the title of Obasayero of Oyo Empire, while his wives, Aisha, Abiodun, Mariya and Nafisa bagged various tittles.
Adeyemi said that the honour done to the Yuguda family was in line with the ancient tradition of the old Oyo empire's building of bridges across different cultural and ethnic divides.
Yuguda, in his acceptance speech, described the action as a clear testimony of Alaafin"s true and genuine disposition to the unity of Nigeria.
He pledged loyalty to the monarch, promising that he would not hesitate to give constructive and honest advice at the appropriate time.
Dignitaries present at the ceremony included Gov. Abiola Ajimobi of Oyo State, the Speaker of the state House of Assembly, Mrs Monsurat Sunmonu, and a former Governor of the old Oyo State, Dr. Omololu Olunloyo.