Commercial activities were paralysed at Elekoyangan and Anfeyin, two communities located along the old Jebba road in Ilorin East Local Government Area of Kwara State on Tuesday when five youths of the communities were killed in a ghastly accident involving a Camry car and a parked Toyota Hiace commuter bus.
Two others sustained injuries and were rushed to the University of Ilorin Teaching Hospital, UITH, where doctors are battling to save their lives.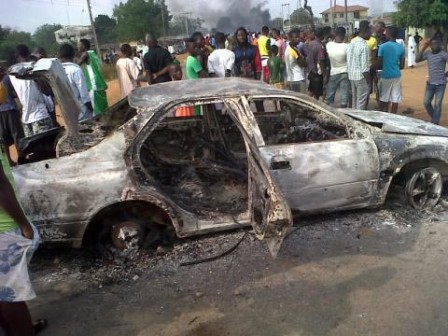 The accident occurred around 9.30 p.m. when a Camry car heading towards Ilorin metropolis from Jebba rammed into a stationary Toyota Hiace bus before knocking down the youths.
Witnesses said the driver of the Camry car, suspected to be drunk, escaped from the scene.
Following the tragic incident, members of the two communities took to the streets to protest the death of the youths. They set the Camry car ablaze and blocked the road for several hours with bonfires made from disused tyres.
The situation was brought under control by policemen who fired tear gas into the air to dislodge the protesters.
A resident of Elekoyangan, Mallam Isiaka Rahman, described the death of the youths as sad.
"It is a sad incident. Our children, Abdulfatai, Sodiq, Fatai Kososi, Jamiu Mogaji and Jamiu were killed in the accident while Shola and Gafar are in a state of coma in the hospital.
"During a peaceful demonstration to protest the killing of the youths, the police came and shot sporadically into the air. We had to run for cover. Teargas was also fired to dislodge the protesters," he dislosed.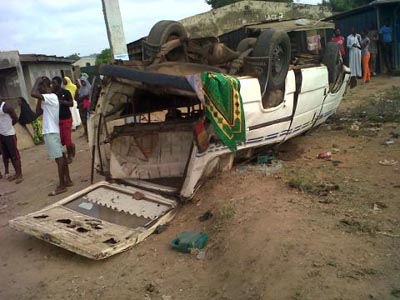 When contacted, the state Commissioner of Police, Mr. Agboola Glover-Oshodi, confirmed the incident and called for calm.
While sympathising with relations of those who lost their lives in the accident, the police boss warned the youths not take the law into their hands, adding that his men would remain in the area to prevent further breakdown of law and order.
—Stephen Oni, Ilorin