Ayorinde Oluokun/Abuja
Nigeria's federal government on Wednesday formally approved the construction of a Deep Sea port in Lekki, Lagos Stae at the cost of N216 billion ($1.354 billion)
Idris Umar, the Minister of Transport told State House correspondents at the end of the weekly meeting of Federal Executive Council that the Lekki Deep Sea port, which construction was granted anticipatory approval about ten years ago, will now be completed in the next four years.
Umar said the construction of the Deep port will end the present congestions at the various ports in the country including the Apapa port.
The project is being executed under a Public-Private-Partnership arrangement.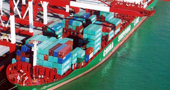 Labaran Maku, the Minister of Information also told journalists that the federal government renegotiated the concessionary period in favour of Nigeria from 50 down to 45 years.
The Federal government, he said, is expected to contribute 20 percent equity on the port designed to handle the largest vessels in the world, while Lagos State Government will contribute 18.5 percent. Private investors are contributing 61.85 percent.
Maku said the Deep Sea port is designed to handle 4 million tonnes of cargoes and is expected to cover an area of 90 hectares with provision for expansion and the width of the Channel leading to the port is about at 200 meters to be dredged to a depth of 17.5 meters, with a width of 300 meters, making it the deepest in West Africa.
He also said Nigerian Ports Authority (NPA), is expected to reap over $9.3billion, made up of $2.6 billion from marines' services and royalty and $6.7 billion from share of profits from the investments.
Load more