President Jacob Zuma announced President Nelson Mandela's death to the world on Thursday.
"He is now resting … he is now at peace," a visibly emotional Zuma said on national television. "Our nation has lost its greatest son."
In a sombre statement read live on television by the president, Zuma told his fellow South Africans: "Our people have lost a father. Although we knew that this day would come, nothing can diminish our sense of a profound and enduring loss.
"His tireless struggle for freedom earned him the respect of the world.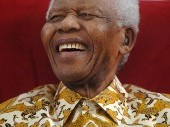 "His humility, his compassion and his humanity earned him their love. Our thoughts and prayers are with the Mandela family. To them, we owe a debt of gratitude. Our thoughts are with his wife, his former wife, with his children, his grandchildren, his great grandchildren and the entire family."
He added that the country's thoughts were also with those who helped Mandela in the struggle against apartheid, his fellow South Africans and his many admirers throughout the world.
"Our thoughts are with the millions of people across the world who embraced Nelson Mandela as their own and who saw his cause as their cause. This is the moment of our deepest sorrow.
Zuma said that Mandela would be accorded a state funeral and that all flags would be lowered to half-mast from December 6 until after the funeral.