Nigeria may have flopped at their last two World Cups but expectations are high of a better showing in Brazil next year, irrespective of the first-round group they are drawn in on Friday.
The Super Eagles have not won a World Cup finals match since a 1-0 win over Bulgaria at the 1998 World Cup in France.
But defender Efe Ambrose said they should not dread clashing with any team in the first round in Brazil. Instead other sides should a meeting with the African champions.
"We are African champions and instead of trying to avoid any team in the group stage, it should be the other teams trying to avoid us," the Celtic defender told AFP this week.
"All we need to do is to prepare very well for the competition by playing some top friendlies and making sure that we the players are fit and playing for our various clubs in Europe.
"We must be ready to play against the best teams in the world if we wish to make an impact at the World Cup."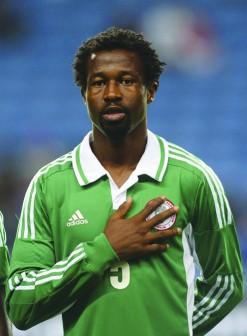 Sporting Braga ace Elderson Echiejile meanwhile said confidence was running high in Nigeria's squad since they won a third Africa Cup of Nations in February, making them ready for the challenge.
"I can confidently say we have a good team right now. We have more confidence as a team and that is what I think is going for us right now and that would really help us at the World Cup," said the defender.
"As a team, we do not have a limit to what we could achieve. I believe so much in this team to shock the world in Brazil.
"But we should not expect the best draw because there are a lot of great teams going to the World Cup.
"But whatever team we would be paired against in the draw would be a difficult team because they all went through the qualifiers, so they would be tough to play against."
Nigeria are now a settled side under former skipper Stephen Keshi and suggestions of hiring a foreign coach for the World Cup, as was the case for the 2010 competition, have been dismissed by officials.
The Nigerian Football Federation (NFF) have also promised a good build-up for the World Cup, with the government equally promising a financial lifeline for the cash-strapped association
The NFF said it was working on proposals for a training base in either Colombia, Argentina or the United States before the kick-off in June next year.
"The task ahead is a very huge one and as champions of the continent, we must have the best preparation as a lot is expected of this team," said Chris Green, the head of the NFF technical committee.
Brazil will be Nigeria's fifth time in the World Cup finals.
Their best performances at the tournament was on their debut in 1994 and 1998 when they reached the knockout round of 16.