Portugal captain Cristiano Ronaldo believes Spain, Brazil and Germany are the favourites to win next year's World Cup and is keen to avoid all three in Friday's draw for the group stages.
The Real Madrid forward ensured his country will be represented in Brazil next summer with a stunning individual performance as he scored all four goals in Portugal's 4-2 aggregate playoff win over Sweden last month.
However, having been eliminated by Spain in each of the last two major tournaments, he is keen to avoid some of his club teammates along with Brazil and three-time winners Germany in the early stages.
"The candidates to win the World Cup are Brazil, Spain and Germany. Ideally it is not a good moment to be drawn with them, but we are not thinking about that just now," he told Spanish sports daily Marca.
"We will see what the draw presents us with. We are confident, in good shape and we have achieved our objective of getting to Brazil. Hopefully we will not be drawn with any of these really strong teams from the start."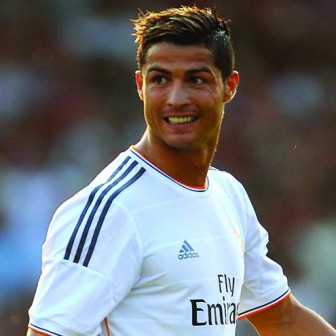 Ronaldo has paid slightly for his efforts in the match against Sweden as he has missed Real's last two games due to a slight muscle problem.
However, Madrid have continued their rampant form of late even without their star man as Gareth Bale took centre stage with his first hat-trick since joining the Spanish giants in a 4-0 win over Valladolid last weekend.
The treble took Bale's tally to eight goals in his last seven games, whilst he also teed up Karim Benzema for Madrid's other goal to add his sixth assist of the campaign.
And Ronaldo has praised Bale's outstanding form since returning from a number of niggling injuries that blighted his start to life in the Spanish capital.
"Gareth has played very well in these games," he told Spanish sports daily Marca.
"His adaption has been phenomenal and he is playing at a very high level."
Ronaldo also had high praise for Xabi Alonso as his return to the side has coincided with a seven-game unbeaten run for Madrid in all competitions in which they have scored 30 goals.
"The return of Xabi Alonso has been very important for the team. The defence, for their part, has been incredible and the goalkeeper too."
Madrid boss Carlo Ancelotti has echoed Ronaldo's views on Alonso's importance to the side and is hoping that the former Liverpool man will soon put pen to paper on a new contract with his current deal set to expire next summer.
"I can say that Xabi Alonso is a key man. He is a very important player and he has incredible quality and experience. His return was very good for the team," the Italian told esRadio.
"I am not worried because everyone knows how important he is. The club is talking with him about renewing his contract. I hope that he is happy here and he renews."